Pippi Longstocking Costume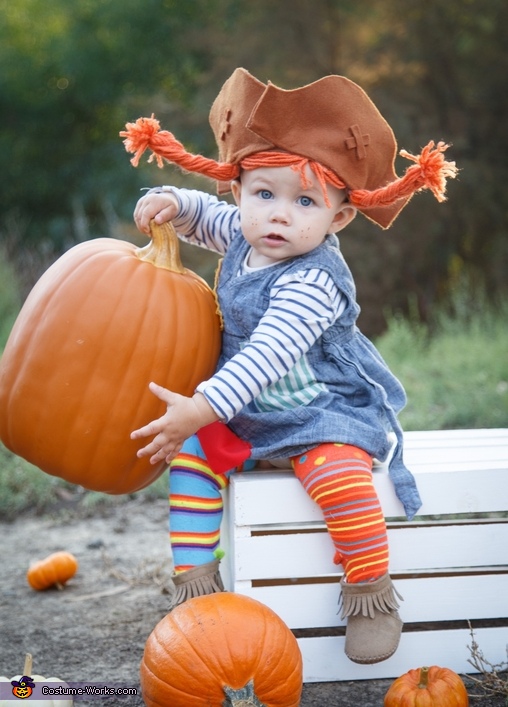 Baby Pippi's super strength allows her to lift giant pumpkins. Someday she'll be strong enough to lift a horse with her bare hands.
More views:
(click to enlarge)
A word from Karolin, the 'Pippi Longstocking' costume creator:
Pippi Longstocking is riding in her dads pirate ship, the Hoptoad as she cruises the south seas. As a red head with years of experience portraying Pippi Longstocking for Halloween, I thought it was only fitting to pass the throne/braids onto my daughter, Quincy. Her spunky optimism makes her a real-life Pippi. Quincy loves riding in her push car, so we got the idea to turn it into a pirate ship as she does not yet walk and we figured it'd be easier for trick or treating. Her dad got a box from the garage, hot glue, and a permanent marker, and whipped up a pirate ship fit for a pirate princess. Her costume itself is a jean dress with different fabric swatches stitched on, in addition to some striped socks from the 99 cent store. Her hair consists of yarn, pipe cleaners, and brown felt from the craft store. In total, her costume cost less than $15 not including the many hours spent constructing the pirate ship and her hat/hair.