Pillsbury Doughboy Baby Costume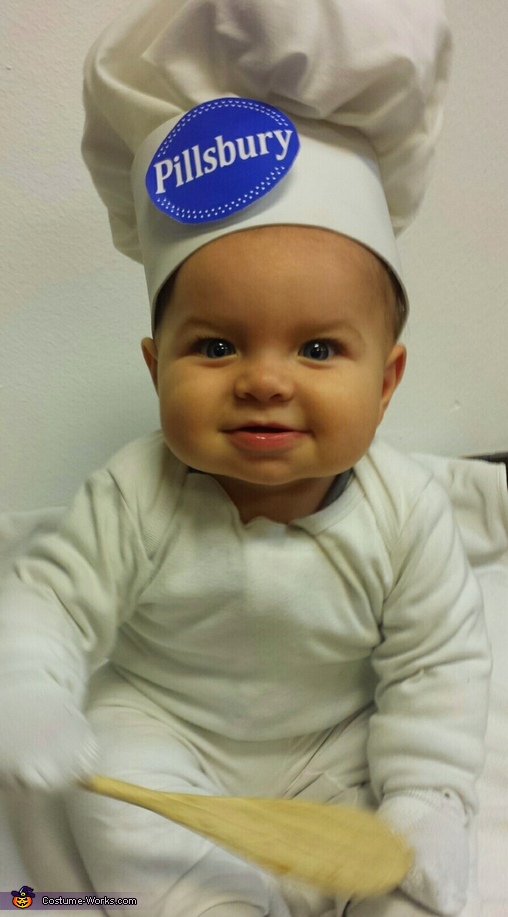 Jevan the doughboy
More views:
(click to enlarge)
A word from Alana, the 'Pillsbury Doughboy' costume creator:
My son Jevan is wearing a Pillsbury doughboy costume. The idea came a reality when his sister wanted to be a cupcake. He has such big cheeks and I decided the doughboy was the perfect fit for his look and personality. He had fun holding onto the wooden spatula all night!!
This costume was very last minute and an easy DIY. He wore a white onesie and pants that we already had. Then we made a hat out of an old cut up pillowcase. We used foam as the base of the hat around his head and hot glued the pillowcase to the foam. Next we stuffed it full of tissue paper to help give it shape and finally we added a Pillsbury label that was printed off. It was super easy!
The cupcake costume was created by using a lampshade turned upside down and covered with tin foil. Next, we attached a shirt to the inside of the lampshade and wrapped tulle around it. We used a hot glue gun to attach it. Finally, we added bright colored fuzzy pom poms as sprinkles.