Pennywise - from the Movie I.T. Costume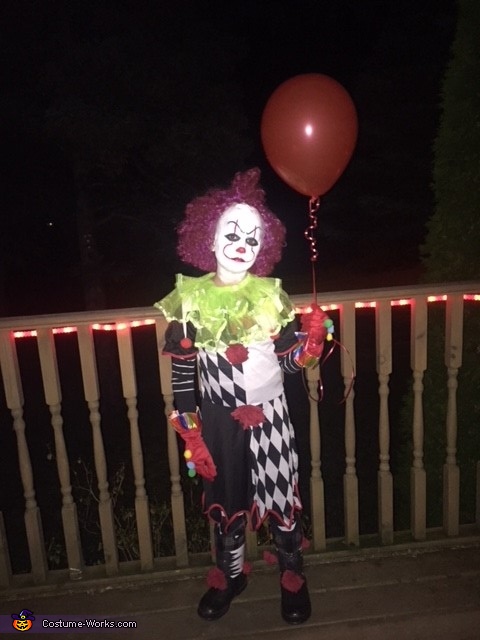 final outside shot
More views:
(click to enlarge)
A word from Jason, the 'Pennywise - from the Movie I.T.' costume creator:
I applied makeup and to my Daughter (age 9) for her Halloween Party this past weekend, Oct. 28, 2017. We got the idea from the movie "I.T.", playing in theatres. Basically, applied the makeup myself on her to portray the character on the movie. We didnt have the outfit to be exact to "Pennywise", so we made do with what we had to resemble a clown. We had a Jesters top, where I made some red Pom-poms and sewed on. My daughter also had a black/white stripped shirt that seemed to match fine. We also dug out the halloween clothes and found stripped tights with skulls, and some colorful gloves where we also added pom poms. The boots were just regular 'Boggs", that we added son painted/decorated cardboard with tape and off course more pom-poms.
I used a Bald cap to hide her hair....Base coat of white face cream. Added a wig that we had to color with spray paint, and did the makeup as best we could. Added 1 helium red balloon on a string, and a colorful greenish clown collar and a paper boat prop. Duration 1.5 hrs...Oh and she won first place at her halloween party....Hope you enjoy!