Pennywise and Georgie Costume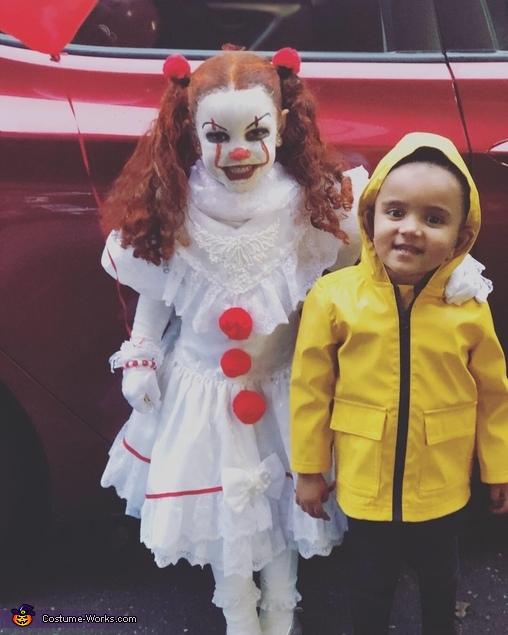 Penny wise and Georgie
More views:
(click to enlarge)
A word from Morgan, the 'Pennywise and Georgie' costume creator:
Costume from Stephen Kings it!

For penny wise I bought the dress from goodwill for $10 . I then bought the red ribbon and red balls from Jo Anne's fabric ! I sewed on the red balls and red trim ! I also bought lace material from jo Anne's and sewed the lace onto her gloves and used the rest for her neck piece , which I just tied around in the back ! The socks and shoes I already owned ! For the hair I bought orange spray from party city and the face paint from wal mart , I followed a YouTube video on how to do the makeup ! This was my FIRST TIME face painting and creating a costume ! I paid about $70 total for everthing .

For Georgie I bought a yellow rain coat which is actually hard to find ! I ended up finding it on Facebook market for $10 and I found the rain boots on the Facebook market for $5!

The reactions I got from people were great ! People even stopped their car to tell me how awesome it was ! All of my friends and family loved it ! I had so much fun making this and my girls LOVED IT too !