Peg-legged Pirate Dog Costume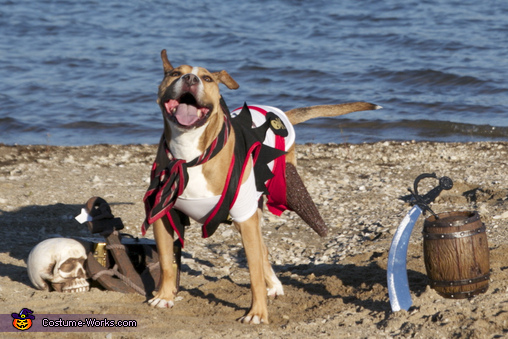 Rusty the 3-legged pirate dog
A word from Jeannette, the 'Peg-legged Pirate' costume creator:
Rusty, the 3-legged dog, is a pirate! The idea came pretty easily, since he's a 3-legged dog!

The costume is made up of numerous different components, some home made and some adapted from a child's costume or just found around the house. The most crucial element is the peg leg. This part was completely homemade. I bought a styrofoam cone (these are most often used in flower arranging) from the craft store. I drilled a hole through the wider end of the cone with a pen (this hole is for the elastic, which will be used to attach to the dog's hind area). Then, I distressed the styrofoam a bit. I distressed it easily by dragging a pen tip (minus ink) up and down it to give it that wooden texture. Finally, I spray painted it brown. Once dry, I took a black magic marker and colored in the deep crevices to complete the wood look. Then, I attached the elastic through the hole and it was ready to attach to Rusty!

The rest of the costume is composed of a scarf I had lying around, a pirate's vest and belt I got from the costume store, and a dog t-shirt someone had given me for a gift. I had an eye patch (also from the costume store), but Rusty would not tolerate wearing it.

And there it is! We went to the lake, set up a couple of props, and snapped a million pictures until we got one that looked good! Arrrr matey!