Peg and Al Bundy Costume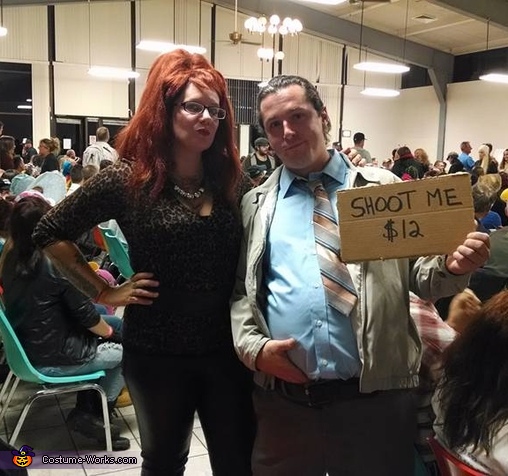 Peg and Al Bundy Costume
More views:
(click to enlarge)
A word from Tasha, the 'Peg and Al Bundy' costume creator:
This was the second Halloween my boyfriend Tony and I were spending together and were planning to continue our couples costume idea. Last year we were JFK and Jackie O, post assassination, and decided to try the comedy theme this year. I was talking with my mom about it one day and she said "Why don't you guys be Peg and Al from Married, With Children?". I sent that idea to Tony, and he loved it. From there it went.
I spent about $70 and some change in total on everything. We have a store here in WV called Gabriel Brothers that sells clothes cheaper than what they would be in the department stores or the mall. I was able to find the leopard print top, heels, wide belt, and tacky jewelry there for about $30. Then I went to Wal-Mart to buy the leggings and some make-up such as lipstick and spend about $20 or so there. The wig was the only thing I had to buy from an actual Halloween store and I bought it online for about $22 after using a coupon I had. My boyfriend bought his shirt and pants at the same store, Gabriel Brothers, and borrowed the jacket from his dad. He already had the shoes I believe. So he spent less money on his than I did. Overall, it was a super fun costume and we received an awesome reaction from everyone!