Peanuts Crew Costume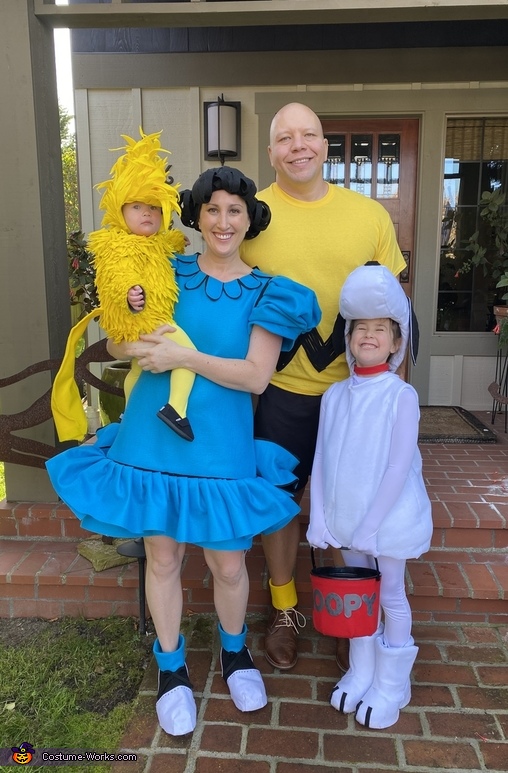 Peanuts Crew
More views:
(click to enlarge)
A word from Alicia, the 'Peanuts Crew' costume creator:
Costumes are worn by Tim (Charlie Brown), Alicia (Lucy), Olivia (Snoopy)(6) and Evelyn (Woodstock) (1)

Every year we make a family ensemble of costumes mostly from felt and hot glue (materials of choice). I am not a costume designer and I don't really sew or make clothes so it is always a fun challenge every year to figure out how to make the characters come to life. It took 4 weeks of working in a few hours chunks around work and family time to put these costumes together.

Charlie Brown's Shirt was purchased and hand cut felt strips were applied to look like drawn lines, football was made from felt, stuffing and hot glue. Lucy's wig was made on a cut up baseball cap with strips of felt and hot glue, Lucy dress and shoe covers were made completely of felt and hot glue. Snoopy's head was constructed on a baseball cap with felt hot glue and batting. The snoopy body was constructed on a men's t shirt base and a felt body that was sewn and hot glued to the base. The black on the ears and body were cut and glued to look drawn on. There was a gap between the shirt and the shell that allowed the body to be stuffed. The snoopy boots were made on top of an paid of old snow boots with felt and hot glue. Woodstock's hat was made on top of a baby bonnet with felt and hot glue and the body was made by attaching hundreds of felt triangles to a baby onsie.