Peanut Butter Jelly Time Costume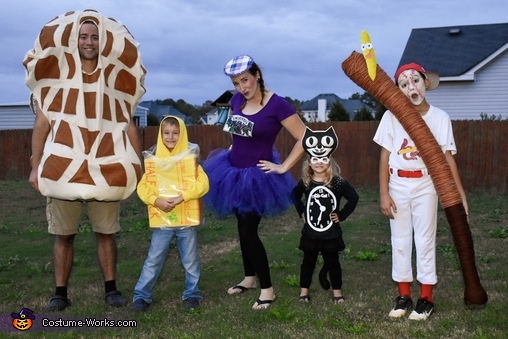 Peanut butter jelly time with a baseball bat
A word from Heather, the 'Peanut Butter Jelly Time' costume creator:
We do a themed family costume every year and this idea actually started Halloween night last year 2018. We always try to do something original and I make or alter everything to fit our theme.
My boys of course love the peanut butter jelly time song and my husband and I knew they hadnít seen the original dancing gif banana video. At first we were going to do peanut butter and jelly as 2 costumes instead of separating the peanut and the butter but then realized that wouldnít work for our family size. So each kid picked which part they wanted to be and I started thinking up ideas!
My husbands peanut costume is made of felt and stuffed with batting, pillows, and even a pool inflatable! My son the butterís costume is made from a cardboard box, paint and a shower curtain, I decided to make him a half stick so it was the correct proportion and he could still walk! My costume, jelly, the purple shirt and black leggings are purchased but I hand painted the smuckers jelly label with fabric paint, made the tulle skirt and the lid is fabric and ribbon on a paper plate glued to a headband. My daughter the kit-Kat clock, I wanted her to love her costume without her feeling like she didnít have a stand alone costume as well. My parents have a kit-kat clock so she had seen thereís and loved it so I found a pattern online to create the mask and cut the pieces from craft foam, sewed a tail to a skirt she had and attached an elastic headband to the mask so she didnít have to hold it as the pattern I found had it attached to a stick and I wanted her to have her hands free for trick or treating! My son the baseball bat is constructed of three pool noodles, duct tape and a ton of different shades of brown yarn! The banana on top is to represent the original gif video and was a dog toy we had that I glued eyes too and stuck to the bat! We are all loving this years theme and will be going around the neighborhood with a speaker blasting our theme song!