Halloween Party Games
Lastly, for your Halloween Party, but probably the most important, will be your Halloween Entertainment! This, of course, depends upon the age group in some things. For example: Music and Dancing may be appropriate and lots of fun for those over say ..um... 15?.. (gosh, kids grow up so fast these days) and there MAY even be a few 5 year olds that think it's groovy to get out there with the little girl next door and show the old folks how to Rock n' Roll!.
Here's some ideas for Party Games I came across that might really help to entertain the troops:
Adult Party Ideas

Poker Tournament - Play for money or just for fun.

Karaoke or Open Mic - Create your own version of American Idol.

Graffiti Mixer - Have guests arrive in white t-shirts and draw on each other with highlighters. Use black light to illuminate what has been written!

Murder Mystery - Each guest is assigned to act as a character. Which one will be the cruel murderer?

Tug of War - Set up your backyard for the ultimate challenge!

Twister - Old fashioned game with new found fun.

Sock Hop - Roll with the oldies and turn up Elvis. No shoes allowed!

Truth or Dare - Go around in a circle and have each guest pick "truth" or "dare."

Boxer Shorts & Bow Tie - Guests arrive in their pajamas, can be naughty or nice!

Charades - An oldie but a goodie! No words, just act it out.

Shotgun Wedding - Handcuff a couple together for a whole night! Play games, appear in public and embarrass the husband and wife to be...

Widow's Ball - Dress all in black and dine out in honor of the dead.

You've Got the Right Stuff Kick - it 80's style where mullets are allowed!

Black & White - Have guests arrive wearing black or white and use black lights to illuminate the party.

Animal House - Every adult must retreat back to their college days...plan a reunion with toga's galore!

Phantom of the Opera - Throw your own Masquerade Ball and permit only those with a mask!

When I grow up... - Have guests arrive dressed up in the uniform of what they wanted to be when they were 5 years old.


Kids Party Ideas

Scavenger Hunt - Put together a list of odds and ends for kids to go out and find from neighbors. The pair with most items found, wins!

Costume Parade - Prance around in your costume while the judges take a look.

Bob for Apples - Easy to prepare, dump apples in bin of luke warm water.

Pumpkin Carving Contest - Have guests bring their own pumpkin and provide designs and help with carving.

White Elephant - Each guest brings a unisex gift and trades with each other until time is up. Open and enjoy!

Dr. Jeckel's Lab - Provide a laboratory of objects in concealed containers and let kids reach inside. i.e. Eyeballs that are really peeled grapes!

Mummy Wrap - Each team wraps another in toilet paper to create the best mummy.

Coloring Contest - Make copies of coloring books and award prizes for staying in the lines!

Beauty Salon - Hire your babysitter to attend your child's party and do hair and makeup as if in a beauty salon.

Face Painting - Have a clown arrive with face paints and temporary tattoos!

Obstacle Course - Arrange two teams that compete against each other in a homemade obstacle course.

Hayride - Look up local farms for hayrides or hiking on haunted trails.

Crafts - Have kids create their own treat bags to bring home after the party. Themes vary depending on occasion.

Tye Dye - Let kids tye dye their very own shirt, shorts, socks, or towel.

Movie Night - Have kids dress their best and arrive for movie night. Roll out a red carpet...

Dance Party - Let kids compete in a dance off. Turn your living room into a diva disco!

Above are ideas from Buy Costumes. Give your guests the time of their life with some new ideas from the company who knows how to party!
Go to Shindigz to find Halloween Games for children. Below is a Halloween Bean Bag Toss Game.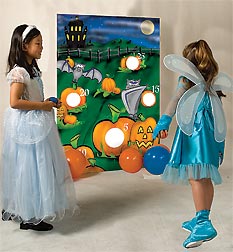 I would be HAPPY for any of your Ideas on Halloween Games..for young or old. Any OTHER forms of "Halloween Party Entertainment" that you can clue me in on would be welcome also. Just write it up for me and send to Coletta [at] Costume-Works.com. (Don't forget the dash(-)after "costume") Please include "Halloween Entertainment" in the subject line and THANKS in advance!

Back to Halloween Parties Main Page