Pair of Dice Costume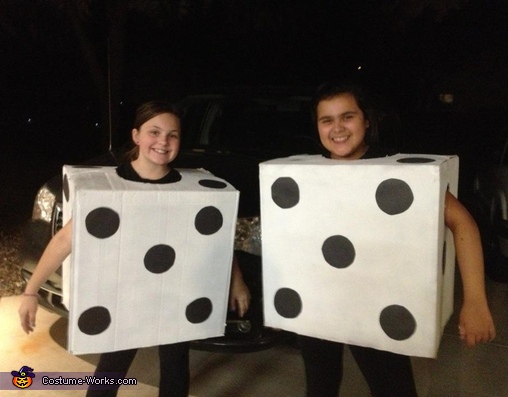 Front
More views:
(click to enlarge)
A word from Lisa, the 'Pair of Dice' costume creator:
My daughter Emily (right) and her friend Meagan(left) have a halloween party for school and were looking for a creative costume that would be easy to make from home. So we decided a pair of dice!
Materials needed:
2 - boxes
tape
black construction paper
glue
spray paint
To make: cut the flaps off of one end of box. Tape the other end shut, trace a circle(large bowl)for the head. Then put the box on, and judge were you would like the arm holes, trace a circle(duct tape roll). Spray paint the boxes, and then cut out black circles for the dots. for two dice, 30 dots are needed.
Overall price: $12.72