Pac-Man Family Costume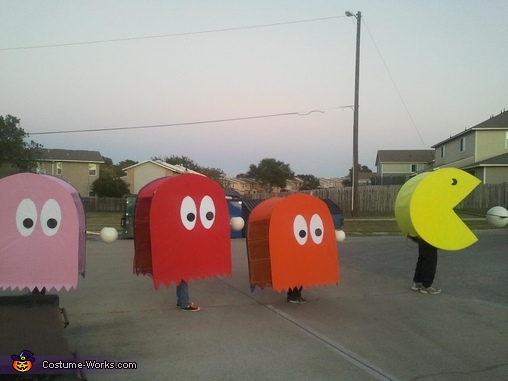 Colored side of ghosts.
More views:
(click to enlarge)
A word from David, the 'Pac-Man' costume creator:
In 2010 my family and I did a Tetris costume (attached Photo). It was the hit of the town. This year we brainstormed for a new family idea and came up with Pac-Man. Once we had the idea of what we wanted to do, I searched the web for ideas. I came across this construction (https://makezine.com/projects/Chomping-Pac-Man-Costume/) in which it was something that I had in mind. Instead of doing my Pac-Man as he did, I made mine from wood. I used mostly 3/4" square dowels for the frame and used lattice for the edge. Instead of cardboard, I used Styrofoam insulation. I had intentions of making my chomping as Matthew Varas did, but the mechanics were a bit more complicated that I expected when it came to the wood. As for the ghosts, once I was having issues with rounding the lattice on a shorter bend than the Pac-man, I decided to go with CPVC pipe as Matthew Varas did. I made some slight modifications to the structure, made it 4 ft tall and 28 inches wide. I also added the "cookies" or "pellets" to be as trick-or-treat baskets, as well as add a little more depth to the game.

As for actual construction, I drew out the pattern on graph paper, intending for the Pac-Man to be a 4ft circle with 1/4 missing. The center piece actually has 8 spokes coming off of it at 24" each except the one on each side that extends the full 36" of the original square dowel. I then squared them off with some more dowels, thickened the ends where they lattice was to start (after noticing that 3/4" is not strong enough to hold 1 1/2") and curved it around after the first part dried. I used Gorilla glue and 5/8" brad nails through my staple gun to hold them together. I then cut the foam insulation to fit inside the lattice circle and used Great Stuff expanding foam to hold it in place. On the inside I created a little cross tie frame, kind of similar to a ruck sack, and actually mounted ruck sack shoulder straps and butt strap purchased from the local Army Store. I then happened upon some cheap (discounted for a stain) yellow felt and hot glued it to the lattice frame. The power pellet hanging out front is actually papier-mâché that I made over a 15" toy ball. Once I had several layers on there I took the ball and ran two dowels through it and sealed it up. On the inside of the costume I zip tied a battery fan and used a whole lot of foam to create a pocket to hold a portable speaker.

As for the ghosts, I did a very similar thing that Matthew Varas did. I actually took the middle of the frame one rung higher and made it considerably smaller, since kids were mainly using them. I hot glued that fabric onto the large cardboard that was given to me from Lowe's and then used Great Stuff to hold it in place. I used color matching tulle to kind of hide them, yet still allow plenty of visibility. They too had ruck sack shoulder straps and butt pads for holding them up. Their pellets are also papier-mâché, but with a 10" ball, I used a CPVC pipe and a threaded rod as a cross tie on the inside of the ball and used papier-mâché to hide the tips.