Oscar Baby Costume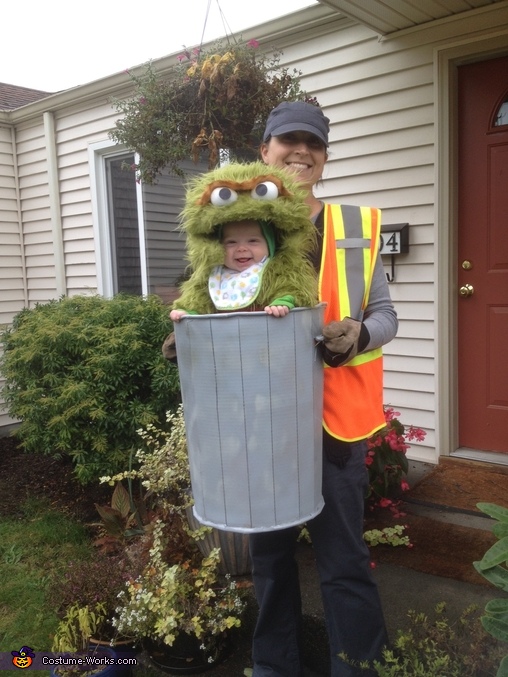 Oscar the Not-so-Grouchy Grouch
A word from Tyler, the 'Oscar the Not-so-Grouchy Grouch' costume creator:
This costume is homemade, worn by my five month old son, who happens to be named Oscar in real life. We got the idea for a muppet costume based on his name, of course. After being disappointed in any commercially available oscar costume, we decided to make our own.

Our Oscar does well in the baby carrier, so we decided to incorporate that into our costume. The trash can was simple: cardboard scored with a knife, with each vertical panel being narrower on the bottom than on the top, bent backwards around a styrofoam circle (with the top circle being larger than the bottom, and hollowed out - to allow the can to be occupied. We added some cord, ducktaped around on the top and bottom circumference edges, and with a little wire inside shorter pieces of the cord to make the handles. Grey spray paint. The can's two circles consisted of about 270 degrees of can, with the back open, to insert Oscar's feet. A small piece of string held the can in place, draped over the baby carrier.

Oscar's head was a styrofoam half circle, about 13" in diameter, with a couple of extra pieces of foam on the bottom to make the lower jaws on each side. The foam pieces were connected together with duct tape, and then lined with the olive green faux fur. That fur was hard to find, but Amazon came through. I trimmed the fur around the eyes and upper lip. Eye balls were foam eggs cut in half, the unibrow was sample fur from the halloween store, and all of that was glued together using a hot glue gun. On the inside, the helmet stayed affixed to our little guy's head because I went to the Goodwill and bought a toy fireman's hat, and took out the little plastic adjustable insert. I taped that to the inside of the styrofoam half circle, which allowed me to adjust the angle for Oscar's head.

Oscar's outfit was just a green hoodie, lined with the same faux fur. The fur was cut into pieces to glue to the hoodie, affixed with hot glue. Oscar's mom went as a garbageman (er....GarbageWoman), with her reflective vest and work gloves. The whole costume was about 75$ in styrofoam, fur, paint, and glue.