Oompa Loompas Costume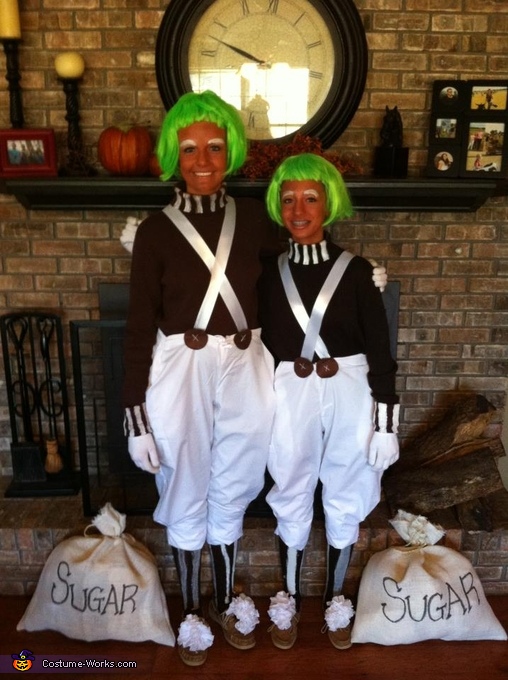 oompaloompas(:
More views:
(click to enlarge)
A word from Amy, the 'Oompa Loompas' costume creator:
My daughter and her best friend are wearing the costumes. What I did was I bought the following items:
-2 pairs white scrubs
-2 brown headbands (thick) *I cut these in half and sewed them so that they were sewed to the white gloves as one piece*
-2 pairs of brown socks
-2 brown turtle necks
-white fabric paint
-brown felt
-white and brown tissue paper
-white ribbon
-2 green wigs (or green hairspray)
-orange face makeup
-white cosmetic face paint for eyebrows
-2 pairs of white gloves
*Make sure that you have a sewing machine!*
I also put (2) of everything on there because I was making one for my daughter and one or her friend, but if you only need 1 oompaloomopa then you only need 1 of everything. To start, I measured the girls. I pinned where I needed to sew to make the scrubs fit them properly. I pinned up the bottoms so it was tight around the shins. You can use elastic, but I didn't. Once the pants fit them well, I cut out to circle shaped pieces of brown fabric, and stitch a X in the middle to represent a button. I also sewed long pieces of white ribbon (it depends on how tall the person is for the length) these are going to represent suspenders. They criss-cross, in the front and back. While I was sewing, the girls were painting with the white fabric paint, their socks (which were pretty hard to paint...you have to place two-three canned food items into the socks and paint them that way or wear them and wait to dry without getting it everywhere)their sewed gloves/headbands, and there collar of the turtle necks. After all of that is done, you have your shoes. For the shoes, we did a pair of Sperry's with a piece of white tissue paper bundled up into a flower shape and then hooked onto the shoe with a pipe cleaner or pin. That is all, except that on the day that you are dressing up, make sure that your whole face, ears, and half of your neck is covered in bright orange face makeup, and then put on a hair net and wig. One really good tip for the hair net is that you can cut a pair of panty hose (if they even sell them anymore) and cut one of the feet off and use that as a hair net. You can also use hair paint or spray, but we didn't because they wore this to school, and that wasn't permitted. I really hope you like this idea, we mostly did it with trial and error and bought the stuf hoping that it would come out, and it did so I hope you like it! In the picture there are "bags of sugar" which was my daughters cute idea, what it is:
It's burlap (Walmart-fabric section) that is sewed and with a black marker I wrote Sugar, and then tied it off with a thick piece of string. That day they usd these as backpacks, and on Halloween Trick-or-Treat bags. I hope you like it!