Old-School Macho Man Randy Savage Costume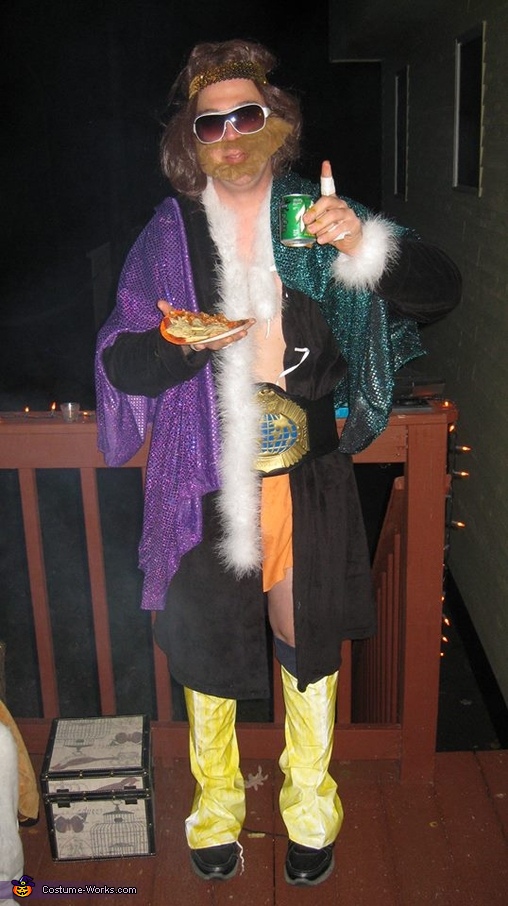 Old-School "Macho Man" Randy Savage
More views:
(click to enlarge)
A word from Mike, the 'Old-School Macho Man Randy Savage' costume creator:
Fascinated with pro wrestling since I was a kid, I decided to dress as one of my all-time favorites, Macho Man Randy Savage. I wanted to go in a different direction than many of the fantastic costumes already done of the man, so I drew inspiration from his Wrestlemania III locker room motif. I liked the wrapped fingers so off the bat, I made sure I got some athletic tape.

I started with a simple navy blue comforted bath robe. Next, I attached two sparkly sheets of cloth from JoAnn Fabrics. A thin white boa furthered complimented the homage to the '80s WWE superstar. I cut a long haired Hippy-style wig shoulder length and bought dollar store Jersey Shore shades for those iconic sunglasses. A head band, basically a strand of bedazzled material also from JoAnn's was fastened around the wig. A generic toy wrestling belt was also used to keep the robe in tact, with the sleeves of a navy blue t-shirt being placed over my kneecaps for the knee pads--and go-go boot covers I hand colored yellow were worn over my regular boots.