Nintendo Family Costume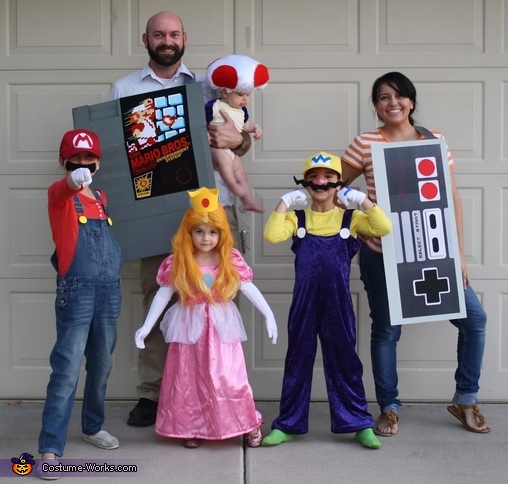 Nintendo Family
More views:
(click to enlarge)
A word from Diana, the 'Nintendo Family' costume creator:
Our kids love playing on daddy's old school original Nintendo system, so what better costume idea than Nintendo characters! All characters are from the original Mario Brothers with the exception of Wario whom we HAD to include because he is one of our daughter's favorite characters!

Mario- Overalls, a red shirt, and white gloves. We purchased a red hat and glued on a felt "M" emblem, I then cut out a felt mustache and used elastic to secure it to our daughter's face.

Wario - This daughter loooooves him, so we had to figure out a way to make it happen. I fashioned an old evening gown into purple overalls. Her nose was taken off of a pair of disguise glasses and a felt zig-zag 'stache was glued on. We purchased a yellow hat and glued the "W" emblem on, then painted on W's on to white gloves.

Princess Peach - I refashioned a thrift store princess dress into something resembling Princess Peach's. Her crown and accessories were made from craft foam and we spray painted a blonde wig for a cartoon look.

Toad - We dressed her in a onesie and some white bloomers. I used left over fabric from Wario's overalls to sew her vest and stuffed a satin slumber cap with polyfill for her mushroom hat. Mushroom spots were cut out of red felt and glued on.

Game Cartridge & Controller- We painted some cardboard pieces the different colors of grey and cut out to look like the controller and cartridge. We then had a large picture printed at Costco of the Mario Bros label and glued it onto the cartridge cardboard. My controller I designed on photoshop and then printed as a engineer print at staples in black and white. I then painted some of the lettering red and added craft foam red buttons.