Ninja Turtles Family Costume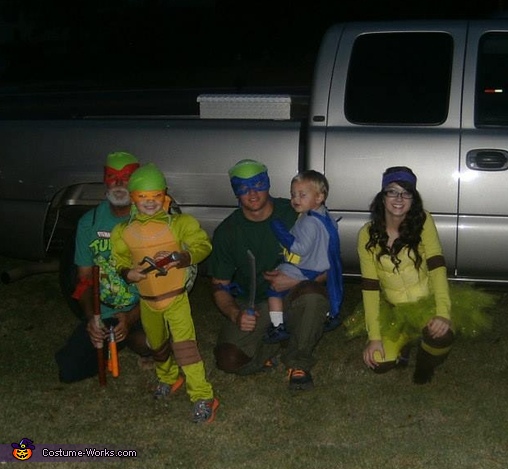 Ninja Turtles
More views:
(click to enlarge)
A word from Robin, the 'Ninja Turtles' costume creator:
My grandson wanted to be a Ninja turtle. But that wasn't good enough he wanted his dad, aunt and grandfather to dress up with him. It was to late and expensive to find them costumes so I thought it couldn't be that hard to make one.
I started out with making a shell. I bought green and brown felt. I cut a piece of fabric in the shape of an oval. Then cut another piece just a bit large to make sure I had room to stuff it and give it the shape I wanted. On the top piece of fabric I sewed octagons and triangles cut out of green to make the shell design. I also cut v's in the edge of the brown felt. I put a piece of foam board inside to make it hold it's shape and sewed the pieces together. Stuffed it, added felt straps to wear them. For my daughter she wanted a tutu so we made that with help from Utube. I bought her a pair of green leggings and a matching shirt. On the shirt I cut a shape to make the turtles breast plate. I sewed it to the shirt down the middle then sewed across it twice to make six parts. Stuff them and finished sewing it closed. This was really cute. I make the elbow, knee and head band out of the right turtles color and scraps of felt. The guys wored the bands, mask and shell.