Ninja Turtle Raphael Costume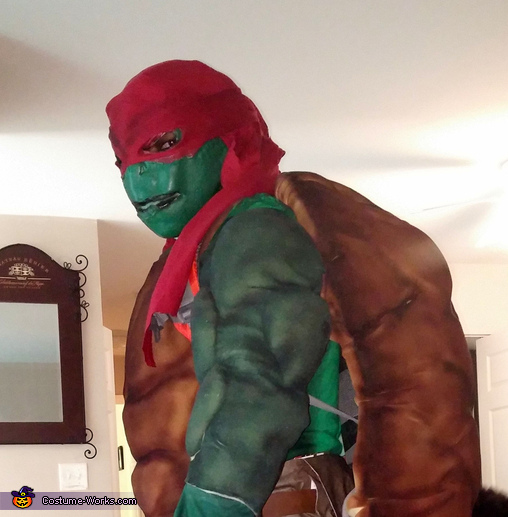 Ninja Turtle 2014 Raphael costume
More views:
(click to enlarge)
A word from Verlin, the 'Ninja Turtle Raphael' costume creator:
I am finally wearing my costume after over a month and a half of trying to figure out exactly how to make. So lets start off by saying half of what I started with I ended up finding shortcuts around and getting rid of all together. My first attempt was creating a fully built muscle suit on top of a skin suit. This involved a lot of foam, spray adhesive, rubber cement, latex and paint. by the end of what looked to be an unbelievable master piece I pulled it off of my "duct tape dummy" and nearly ripped the entire thing. I guess I put on a little weight in between. I learned quite a bit from this lesson. 1. Make them in pieces. 2. DON'T use latex additive with paint for airbrushing. 3. Work smarter not harder.

I went to Walmart and purchased a green pair of sweat pants two sizes to small, as well as a matching shirt. I wanted them to be skin tight to give the impression of real legs. I cut foam in the shapes of thigh and calf muscles and placed them on the inside of the pants. Once dried I airbrushed detail on them to make it look like the muscles were on the outside.

The head was made of foam initially but after realizing I could barely breath I decided to use a 1/4 upholstery foam for the head and then place the actual mask over top of it while adding materials to the doo-rag same as in the move poster.

Hands were done using gloves with two fingers that I paid quite a bit for. I wrapped them in foam and then airbrushed them the same color as the rest of the body. What I would do differently now is buy a regular pair of winter gloves, glue the fingers together and then wrap with foam and airbrush. This would have saved me $45.

The feat were actual two toe ninja shows wrapped witn 1/8 in thick foam and then airbrushed.

The chest piece a part from the shell was my favorite to actually do. I used a tutorial I found on youtube where a guy showed how he created a monster suit. I basically took what he showed and applied it to what I needed. I cut 1/2 foam into muscles pieces according to what the actual turtle looks like. I used a razor blade to trim the edges. Once done I used spray adhesive to attach it to the shirt in its proper places. A few minutes later I traced a piece of 1/8" foam around the muscles. I sprayed both the muscles and the foam with adhesive and slowly applied it to the chest allowing it to fall to every indentation, corner and separation between the muscles. Once on I airbrushed the detail in.

TO make the shell I used a backpack that had both shoulder and waist strap. I cut the foam to the shape I needed and added smaller pieces to give it a ribbed affect. After that I layered it in 1/8 foam and airbrushed on detail.

So there you have it, and here I was FINALLY Raphael the 2014 version of a ninja turtle.