Wizard of Oz Nikko Winged Monkey Costume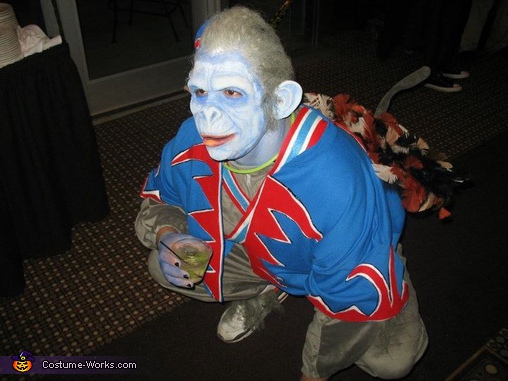 Nikko (Winged Monkey) Wizard of Oz
More views:
(click to enlarge)
A word from Anthony, the 'Nikko from Wizard of Oz' costume creator:
This is a photo of Anthony Albizo, from Des Moines, Iowa, as Nikko (Winged Monkey) from The Wizard of Oz. A group of co- workers dressed as the entire cast of The Wizard of Oz for a halloween party at Forte Ballroom in Des Moines on October 29th.
The entire costume is homemade apart from the foam latex (Ape Man Face & Ears) prosthetics from Woochie. The body suit is made of gray valour using a basic animal costume pattern. I used a piece of wire to make the tail stand on its own. The vest was made by cutting open a crew neck sweatshirt and applying red and white felt. The hat was made out of craft foam and covered in a cotton t-shirt material and felt. I added elastic to hold it onto my head. The black borders are done with black fabric paint.
I used plush foam and cut out the shape for the wings, then hot glued feathers onto it. The face and ears were latex prosthetics, painted with Ben Nye grease paints. I also used dark and light Gray theatrical hair for the top of the head, face, and backside of the costume.
Needless to say, I was the winner of the "Best Costume" contest of the night!
Enjoy!