Nevermore: Edgar Allen Poe and the Raven Costume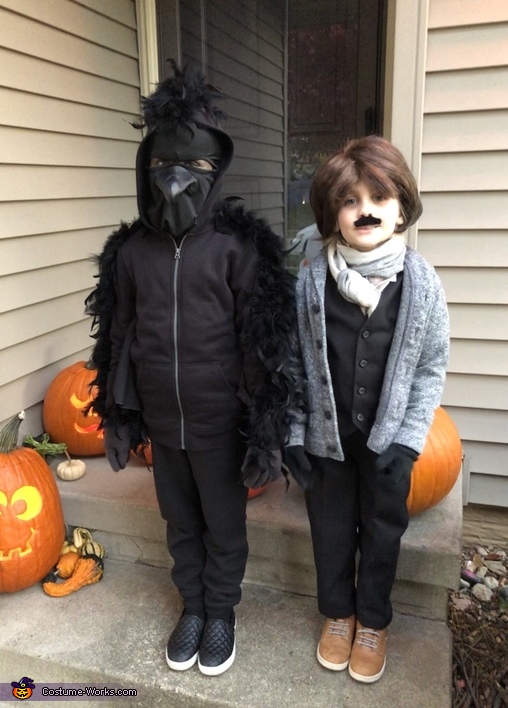 Duo full body
More views:
(click to enlarge)
A word from Lindsey, the 'Nevermore' costume creator:
This costume was inspired by my daughter, who has wanted to be a Crow (Raven) for Halloween since the age of 3. She's now 8 and we finally put it all together. My son is 6 and was super excited to wear a fancy outfit with a vest, sweater, and a mustache.

The Raven costume is a black sweat suit that I sewed black triangle crushed velvet fabric under the arms for wings. I hand sewed and attached black boas along the seams to create the feathered wings and head look. We created the face by applying black and brown make up along the eyes, nose, and forehead. Over her face she wore a ski mask that covered her mouth and nose and left her eyes open and visible. We ordered a Raven beak online and colored the white string with a sharpie to have it blend in. She was super excited and happy with the result. Her green eyes totally popped.

For Edgar Allen Poe, we searched for a little kids outfit that included a black vest and pants. We paired it with a v-neck button up cardigan sweater, a winter scarf tied up, and boots from his closet. We re-used an old brown wig from Halloween past (it had been used for Harry Potter) and ordered a sheet of mustaches. It's a good thing, because we ended up using about 5 different mustaches to last the two hours trick or treating!

It was quite exciting seeing a 6 and 8 year old get excited about bringing to life through costume an author and his poem. Although not every house understood who they were,...for the ones who did, it was totally worth it. This costume is for the slightly nerdy geeked out literature fans. See, Halloween can still be a great learning opportunity.