Na'vi Avatar Costume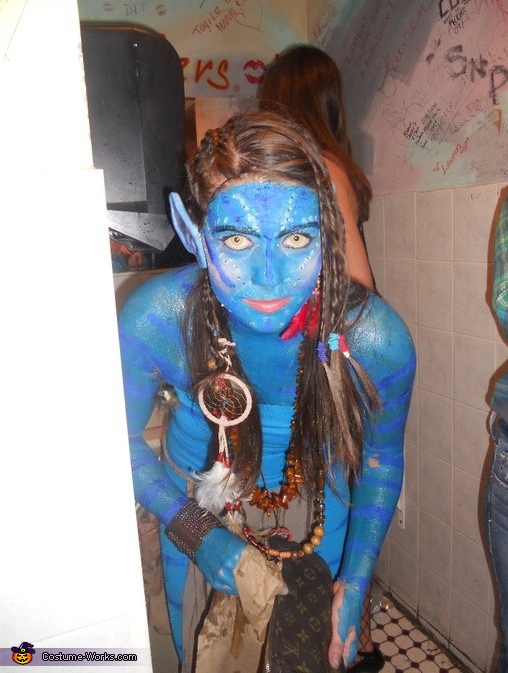 N'avi for the Night!
More views:
(click to enlarge)
A word from Kristina, the 'Na'vi for the Night' costume creator:
Preparation for my Na'vi for the Night Avatar costume hit me in June. I loved the movie "Avatar" and knew I wanted to make the best homemade version of the costume I could possibly come up with. My friends dismissed the idea, because they assumed that I would get the store-ready blue jumpsuit, but I ensured them that I was fully committed to this idea. Months in advance I drew out a sketch of what I needed to achieve the look. I searched far and wide for latex paint, blue stockings, and a blue piece of fabric that were all the same exact shade of Avatar blue. I spray painted a tail, ordered color contacts, and paid attention to detail. I even added a nice dream-catcher into my braid for an extra effect. The look took about 8 hours to achieve. I started by applying latex paint to my entire body, then individually drawing stripes of a darker shade on top. I braided my hair and then focused on my fast last. I wanted to make the look more feminine so I added subtle rhinestones,pink blush, and a tint of lipstick to complete my look. People everywhere stopped and asked to pose with me, literally running after me on the street, saying "Avatar, Avatar please take a picture with me". Friends of mine did not recognize me. It was a completely awesome transformation and something I will forever be proud of. Getting all of the blue paint off of my skin is a whole other story though....