Homemade Mystique Costume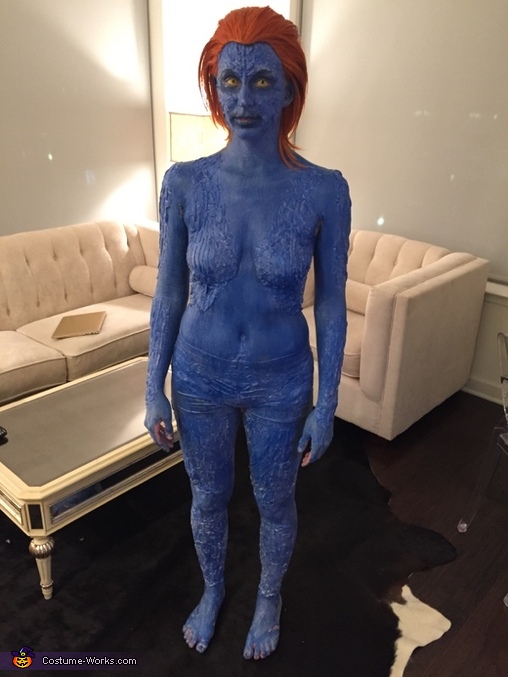 Final product was such a success!
More views:
(click to enlarge)
A word from Hayley, the 'Mystique' costume creator:
Mystique was one of my favorites. I love DIY costumes, and when I commit to a character for Halloween, I want to give 100% to making a really awesome and creative costume. Often, I don't realize just HOW much work it will take. But I do not like to cut corners, so when I have invested my time, money and effort, I am all in and there is no stopping me!

Mystique was a character I knew a lot of people would recognize. When I was doing my research, I was finding a lot of "OK" costumes. So I decided I was going to give it my all and try to make one of the best, homemade Mystique costumes that I could. I started researching how to make the molds and skin and such, and it all started to fall into place.

I ordered the liquid latex online after watching how to make the skin. I knew I would have to take a lot of time and make several different molds to accomodate the different parts of my body. This took a lot of time. I made homemade play dough, formed and placed the pattern for the skin that I wanted for different sections, and then poured the plaster over the patterns of play dough to create the molds. All in all, I think I had a total of 12-14 different molds and about 20-22 pieces of latex skin (ranged from small pieces for my face to large pieces for covering portions of my chest, waist, legs, etc.).

Once the molds were all made, I dusted them with baby powder (for easy removal of the latex) and started to carefully layer the molds with liquid latex via a Q-tip. This could get pretty annoying at times, as the latex would goop together on the Q-tip, and it dried pretty quickly so I had to work quickly and make sure to layer evenly. It was very tedious work, getting into all the little crevices I had created to make the skin eventually look as realistic and believable as possible. But once the liquid latex had dried and I started to peel away the newly formed "skin" from the mold, I couldn't help but become elated with excitement. The entire process of drawing the patterns, forming and laying the play dough, pouring the plaster, letting it cure, removing the play dough from the new molds, layering the molds with liquid latex and then gently peeling of the new skin, probably took me a total of 48 hours, or so. I broke it up over a span of several days, but I was still exhausted by it. I would sometimes be up until 5am, 7am working on the project because I was so determined to make it look as good as possible.

The day of the Halloween parties, I had to shave my entire body and layer my skin with vaseline (for easier removal... even though it didn't seem to help too much-ouch!). I had a girl friend help me assemble and attach everything. After putting my hair up and my contacts in, we started on my face and body by gluing the latex skin onto the designated areas with prosthetic glue. We would apply the glue in a couple areas of each piece, apply, and hold it in place for a few minutes until we thought it would be good enough to stay. After painstakingly applying all of the pieces to my body, we started to paint. We painted my entire body and most of my face with blue liquid latex. After drying, I had to apply baby powder to my entire body because the latex was very sticky. Then I topped it all off with the red wig. This whole application process took about 5 hours. I was so thankful for my friend who decided to stay in that night... I could not have done it without her help!

Once I showed up to my friends house for the pre-party... no one there recognized me. They were utterly amazed by my costume and the amount of detail. That whole night, I felt like a celebrity. I could not walk around for more than 5 minutes without having someone stop me for a picture or wanting to talk to me about how I made my costume. I probably posed for hundreds of photos that night. I was so proud of myself! And I eventually went on to win a large costume contest at a club with cash and prizes. It was such a fun night and I have vowed to continue making such efforts for future costumes. After all, isn't that what Halloween is all about!?