Mummy Love Costume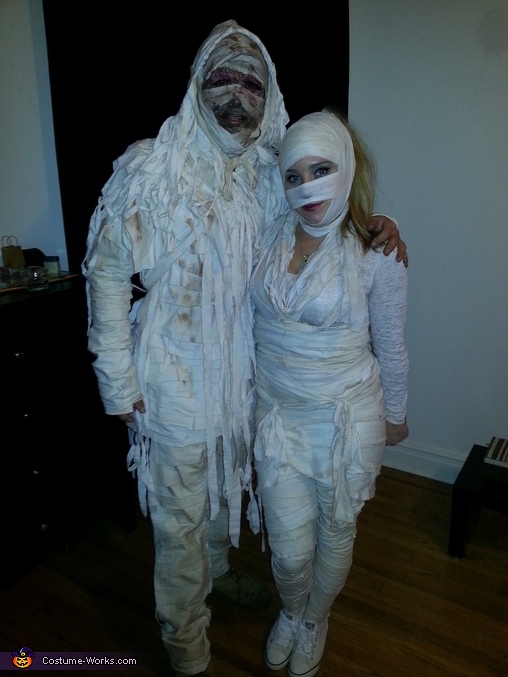 Mummy Love Costume
More views:
(click to enlarge)
A word from Ryan, the 'Mummy Love' costume creator:
This was a costume for my boyfriends 30th Halloween birthday party. We made it ourselves in about two weeks. For the male costume we used white pants and a white thermal with a hood. We shredded sheets and dyed them in tea to give them an old look. We then sewed them around the pant legs and shirt one layer over the last. Then we shredded more sheets and put them around the costume to make it look old and messy. We then used coffee grinds to make it look dirty and earthy. For the face he used a prosthetic eye mask and liquid latex and paper towels. He glued the paper towels to his face and covered in halloween makeup to give it texture and to make it look old and decayed. then we just used some makeup to make it look even more dirty

For the female (my) costume we bought white wool tights a white cotton skirt and a white shirt....We glued gauze rolls around the skirt with spray fabric glue. We then wrapped my legs in the shredded sheets using spray glue all the way up the leg. We wrapped my stomach and chest in a similar fashion and then wrapped some lose gauze around my neck and body to hang and look messy. For my face i wrapped my head in gauze rolls and used bronzer to make give it an old look and did my makeup as striking as possible to give it a sexy mummy look.