Mrs. Butterworths Costume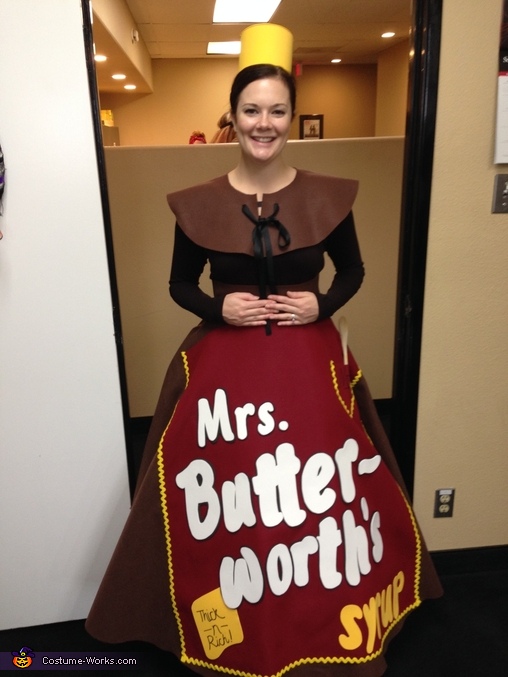 Mrs. Shea-Butter-worths!
A word from Shea, the 'Mrs. Butterworths' costume creator:
I am wearing the beloved felt costume to our annual work Halloween party. I've been wanting to do this for years as I grew up in Canada and my blood runs thick with maple syrup. I found a few pictures online and just kind of eye-balled it.

The skirt was the hardest part. I used 7 yards of felt (6 brown and one red yard on sale at Joanne's and I used a coupon). I then watched a few hours of YouTube videos on how to make a floor-length full circle skirt. Any instructions that required sewing were ignored as hot glue is always my best friend during Halloween. I the added a red square (ish) piece of felt to the front for the apron and edged it with wavy yellow nylon ribbon. I also created a pocket for her spoon and did the same. The letters were the most time consuming. I blew up 1-2 letters from an image of the bottle at a time, cut those out, traced onto white foam pieces and then glued them to black foam pieces and cut them out again to create the black outline. The yellow pat of butter and hat are made from yellow foam sheets. The brown shirt was purchased on Amazon for $10 and there is a hoop skirt under the felt skirt that was also found on Amazon for $10. The shall was simple as it was leftover pieces of felt shaped into a half circle and tied with black ribbon. Overall I think I spent around $60 on everything and I can re-wear the shirt and use the hoop skirt for other projects.

Tada! Mrs. Butterworths in the flesh!