Mr. Potato Head Costume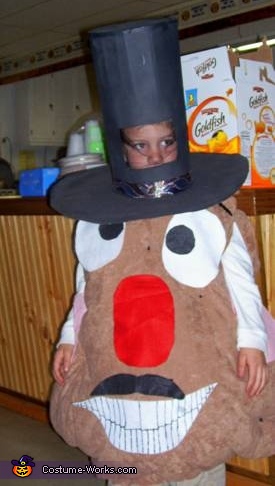 Eric in his "Mr. Potato Head" costume
More views:
(click to enlarge)
This is Eric as Mr. Potato Head. Eric's costume, created by Mom, Donna, is, what one might today call "interactive".
This Potato Head comes with 2-3 changable face parts in a secret pocket and held on with Velcro for an easy switch.

Thanks Donna and Eric!
Super Creative Costume!

Please Support Autism Research.
A word from Donna Y. in Atlanta, NY, the 'Mr. Potato Head' costume creator:
Here is our son (Eric) in his "Mr. Potato Head" costume ! He was 5 y.o. when I made this costume for him. We live in Upstate NY where it has been known to snow on Halloween so when I make a costume I have to keep that in mind. basically this costume is kind of like a sleeping bag (that you can walk in lol) I didn't have a pattern of any kind I just kind of cut it into a potato shape. I found some fabric that I thought look like an Idaho Russet potato. I think I bought 10 yards only because I didn't know what I was doing ;-) and I didn't know how much fabric I would need (I had a lot of left over fabric) I sewed 2 sides together and stuffed it with pillow stuffing until it looked just right. Repeated for the other side. So I now had a front and a back I sewed the 2 sides together leaving space for head, arms and legs, I left the bottom completely open so he could walk and go up and down steps. I made a pouch in the back (just like the real toy) to hold his extra 'face' parts. Yes he is an interactive costume you can change his face :-) He put it on just like a T-shirt.
He had 2 sets of ears, 3 moustaches, 3 mouths, 3 noses, and 3 sets of eyes. The face parts were held on with Velcro. I painted the eye brows on with black fabric paint. The face parts were made out of felt or craft foam. I also took a needle and thread and sewed dimples into the costume for a more potato look. I then colored over the dimples with black fabric paint to look more real.
For the top hat I used 2 black pieces of poster board. I rolled one, then I made sure it would fit over his head. I felt where his nose was took it off then cut the opening so he could see. I did put some black tulle over the opening, so it blended in a bit. I took the other piece of poster board and cut a huge circle and that part sat on his shoulders.
If you look closely you can see the ribbon I used to tie the pouch closed in the back (remember the pouch holds the spare face pieces) I also thought it would be fun to give him a tater tattoo (Idaho spud !) creative license and all that. lol
He wore a white turtle neck underneath the costume and was toasty warm all night long. His costume was a big hit, because everyone remembers Mr potato head. A lot of people liked the idea that you could change the face just like the real toy !!!! For his trick or treat bag I took some Burlap and made him a potato sack I looked online to find an old potato sack picture to keep it all real. His costume was a huge hit and his little cousin is wearing it now and it will be handed down to her little brother in a few years. I hope you enjoyed our Homemade costume.