Monty Python and the Holy Grail Costume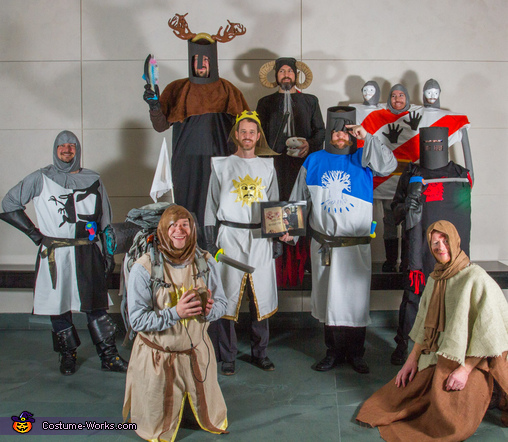 Monty Python and the Holy Grail
More views:
(click to enlarge)
A word from Kim, the 'Monty Python and the Holy Grail' costume creator:
This is the Network Engineering department at Time Warner Cable wearing a group Monty Python costume. We're all huge Python fans, and have worked together for several years. The group includes King Arthur, Patsy (complete with coconuts), Sir Bedevere (with moving helmet), Sir Lancelot, the Knight Who Says Ni (with a herring), the Black Knight (with removable arm. It can also be worn with both arms attached), Tim the Enchanter, the Three Headed Knight, and Dennis. The picture of the man being held up in the middle is our absent friend playing the part of Sir Not Appearing In This Film.
I sewed/made everything except a few of the props, using the film for reference. The knight helmets are foam. The costumes range in material from felt to fur to cotton to burlap. The crests on the knight costumes were my freehand cutting and sewing, and in the case of the Black Knight, painting the face on the boar as well. It took 6 weeks of nights and weekends to make it all, with minimal opportunities for fittings. This was my first attempt at sewing clothes for people other than myself, and it was a learning experience!
I'm the Three Headed Knight with some stipple brush 5:00 shadow. There is a padded copper pipe across my shoulders to support the wide body and 2 other heads. I used my own hands as the hands on the front. The head coverings are made from cotton spandex with a chainmail pattern on it.
Thanks to Chris Roosenraad, Ray Sliteris, Wes George, Mike Lympany, John Watson, Albert Williams, Darren Kara, and Lee Howard for their patience and participation.