Monster Truck 4.0 Costume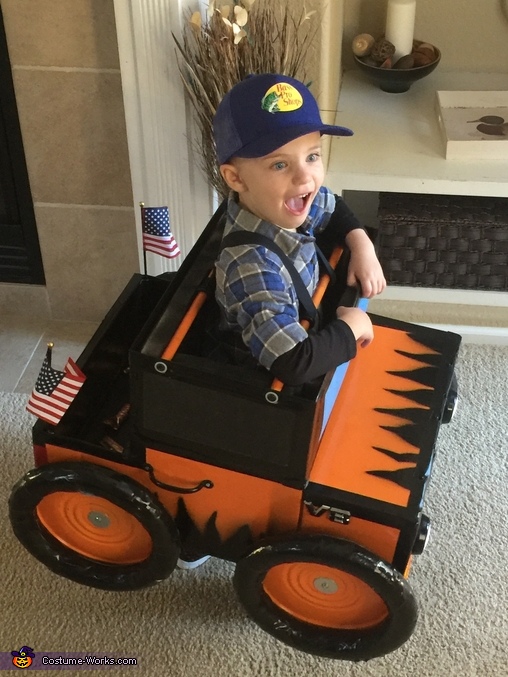 From the side
More views:
(click to enlarge)
A word from Jeff, the 'Monster Truck' costume creator:
When asking about Halloween costumes we figured that our 3 year old son, Keane, would want do the basic ninja, cartoon character or even a vampire… silly Mom and Dad! Our son is OBSESSED with monster trucks. So what did we do?? Went straight to the internet to find out how we could DIY it and make it happen. Then we found it, it was perfect, he would love it but Dad would have to build it, so that started the journey of "Monster Truck 4.0". Needless to say, Dad just laughed it off until our son found out about the project and there was no turning back.


Day one: "Monster Truck 1.0" It all started with a large heavy duty box. Dad was 30 minutes into when he realized that it was way too heavy, off to get another box! Day two: "Monster Truck 2.0" Now on to another large box but not the heavy duty kind. Week 1: Lots of measuring, planning and hand on his chin thinking, Dad realized that the box size was way too big. Week 2: "Monster Truck 3.0" Back to the store for box #3. This one he did a little differently. He started painting this one right away, and then he was going to cut it out (once he finished with the paint and primer). Yes, he primered a cardboard box because who doesn't primer their three year olds costume?!?! He was done with his cuts and was applying the tape when he noticed that he made one of my measurements incorrectly and cut off a piece that he shouldn't have! Sad day. Week 3: "Monster Truck 4.0". Box #4, this one was going to work, it had to work, otherwise he was going as a monster truck driver with a broken down monster truck. Our son's favorite color is orange so we did orange with black flames, which he spray painted. He used black duct tape which gave the color he wanted but also the strength. He applied it to most of the corners to help stabilize it and also to give it a sleeker look. The windows and the windshield were a foam paper from the craft store, which was trimmed down for size. The wheels were a Styrofoam circle that he wrapped in duct tape. Then he stabilized the wheel with more foam and taped it to a five gallon paint lid and used a pin and a bolt to attach it to the monster truck. He was able to find working headlights and glued them to the front (you pushed them to turn them on). Week 4: The grill was formed out of foil and he drew the lines on with a permanent marker. The Ford sign on the front and back and the headlights were really the only things that he didn't fabricate himself or make some modifications to. The bottom bumper and a fender were just a different color of tape that he was able to make look like it was metal. He was able to find a blank Colorado license plate design online and put my son's nickname on, printed it, laminated it and applied it to the back. And finally, the finishing touch… the trunk. We decided to make the back like a trunk so he could hold all of his candy in there while trick or treating.

The costume was a complete hit! It was a very dark night, so the headlights were shining bright which caught everyone's attention. We had everyone, old and young commenting on it. They wanted to know who made it and how they could be this next year. Every house we went to loved the trunk for holding candy and he even had one man empty his entire bowl in his trunk and say, "no one can compete with that, best costume ever – you win all the candy". Now that is a successful Halloween!

We would like you to know that yes, this costume took Dad over a month to DIY and lots of cuts and scrapes on his hands, but we would do it all over again in a heartbeat. To see our son's smile and excitement when wearing "Monster Truck 4.0" is what it's all about. I think Dad's new friends at the hardware are missing seeing him every day but we have already started thinking about next year!