Moana Cast Costume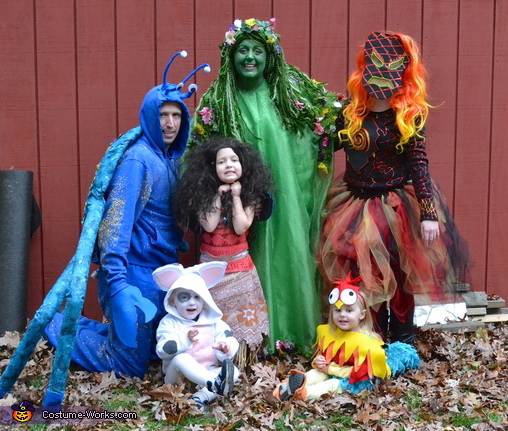 The Moana Cast
More views:
(click to enlarge)
A word from Missy, the 'Moana Cast' costume creator:
My daughters and niece wanted to do a Moana theme for Halloween. We incorporate costumes into their birthday celebration, as their birthdays are just before and just after Halloween. They asked us to join in on the costumes this year, and they dictated what each of us would wear. Unfortunately, we did not have a Maui, but we had the rest of the main characters from the movie, Moana.

Claire (age 5) - MOANA - I found my daughter's Moana costumes online. It came with the costume, heart of tefiti necklace, and wig. Cost: $35

Addison (age 3) - PUA (pig) - I made this costume using a white hoodie, craft felt, and a headband. I also made a pig nose using craft foam, but we forgot the nose when we took the pictures (oops!) Cost: $10

Chloe (age 3) - HEI HEI (chicken) - I made this costume using a fun blue fabric I found at Joann Fabrics, some cardboard for the tail, craft felt, a headband, and a pair of yellow leggings from Amazon. We had the "feet" from a costume from last year. Cost: $15

Nathan (age 39) - TAMATOA (shiny crab) - I made this costume using royal blue sweat pants, hoodie, a snow saucer, pool noodles from Walmart, Pirates treasure pack from Amazon, thick pipe cleaners, large size googlie eyes, pom poms, shiny fabric from Joann Fabrics, and blue craft felt. Cost: $35

Amy (age 31) - TEKA - I made this costume using red, orange, and yellow 6" tulle and making a large tutu skirt, a black shirt from Walmart, red, orange and yellow puffy paint, black craft foam, craft felt, and a wig from a halloween store. Cost: $30

Missy (ME - age 36) - TEFITI - I made this costume using a green polyester fabric from Joann Fabrics, and a sparkly sheer green fabric as an overlay for the dress. I then hot glued craft moss and silk flowers on the sleeves and the bottom edge of the dress. The tefiti hair is a crochet hat made of green yarn, and then different pieces of yarn tied through the hat. I then added a flower crown to the hair. I also bought the green makeup to finish the look. Cost: $35

I had so much fun making these costumes. I would do it all again! I searched google/pinterest for ideas, but all of the materials were things I found on my own. I did watch a tutorial on youtube for the Tefiti makeup!