Mister Prom Dates and the Chauffeur Costume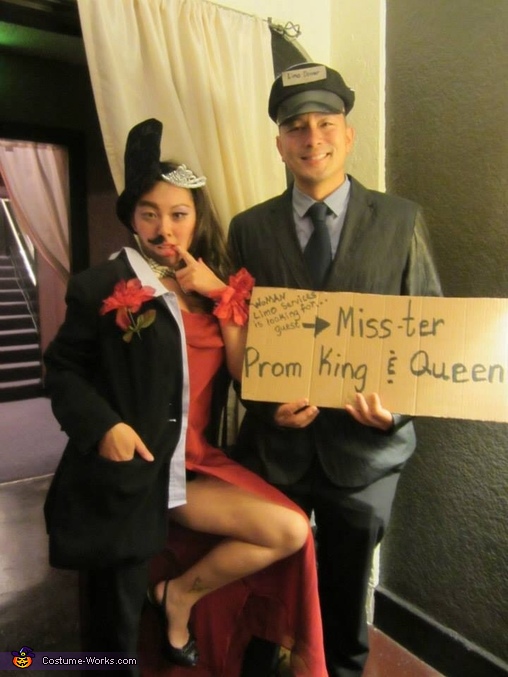 Your limo awaits
More views:
(click to enlarge)
A word from Donna, the 'Mister Prom Dates and the Chauffeur' costume creator:
I thought about 2 face from Batman, and realized I wanted to do something with 2 faces. I had a tiara and thought about prom king and queen, then I wanted my boyfriend to match so he became my chauffeur for 2.

I used a prom dress, slacks, button up shirt, blazer, tiara, top hat, bow tie, necklace, mustache and everything cut in half and buttoned together. I used flowers to make a boutonnière and corsage.
Make up: I used a lot of brown eye shadow to make my eye brow bushy, my shadow on my face and beard. I also used mascara to make the beard and concealer to cover my lips. I put eyelashes on my girly side and lipstick and eyeshadow.
For my limo driver I put together slacks, blazer, button up, and a pilots hat that I covered with a patch that says limo driver, and a passenger sign.

People thought it looked unbalanced and tripped them out. They didn't know what side to kiss. They were confused, they thought I represented gender equality! They thought it was well done and never seen anything like it.