Mister Freeze Costume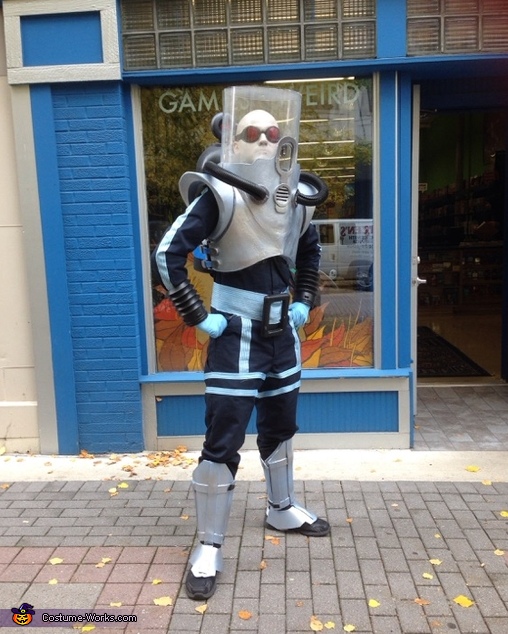 Mister Freeze Costume
More views:
(click to enlarge)
A word from Mack, the 'Mister Freeze' costume creator:
I am the one wearing the costume. I was originally going to make the Mister Freeze from the Arkham games, but that seemed too complicated. In order to make the costume I bought a Navy Coverall, sewed some ribbon (Which I had to stripe with a permanent marker) in lines on the costume. Then, I made the belt out of MDF board using a bandsaw and a lot of sandpaper.
The main chestpiece I made a paper-mache torso of myself, laid some paper on it, and used that to get the pattern. I cut craft foam along that pattern, glued that together, and repeated the same process for every layer of foam. I used spackle to smooth out the uneven layering, sanded, mod-podged, and painted it.
For the leg pieces I just wrapped the foam around my leg, cut out the pattern I wanted, mod-podged, and painted them.
For the canister on the back, I cut circles out of insulation foam, glued them together until the formed a giant cylinder, rounded the top with a rasp and sandpaper, spackled, sanded, and mod-podged, before painting it black.
Finally, for the glass dome, I just bought a clear acrylic retail display.
The goggles and Makeup I just bought.