Minions: Stuart, Kevin & Bob Costume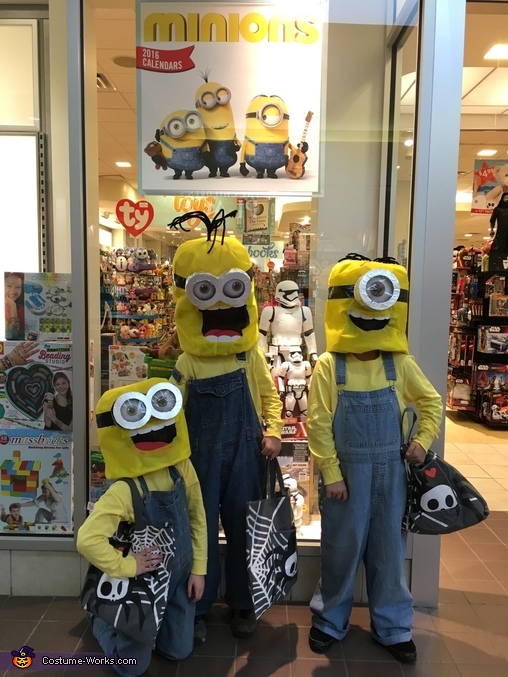 Minions / Triplets take over the mall!
More views:
(click to enlarge)
A word from Donna, the 'Minions: Stuart, Kevin & Bob' costume creator:
My Halloween Minions 2015

Things don't always go as planned, we wanted to get other photos of them in their costumes, but a lot is going on. So I rather submit what we have and our long Halloween story.

Here goes...I made not just one, but I created 3 homemade costumes for my almost 10 year old BBG triplets!!! They decided to be Minions...the 3 main character Minions: Stuart, Kevin and Bob to be exact for Halloween this year. This was mainly my daughter's idea. She convinced her two brothers to do this!!! It's been a few years since my trio wanted themed costumes. This year it was thought of way before they even saw the Minions movie this Summer. I was so excited to not only have them be a "theme," but they wanted ME to MAKE their costumes too! I couldn't wait to get started brainstorming on how we'd make this work. After researching and talking with my kids and deciding they didn't want anything like they saw online, we figured out what we'd do.

I started looking for creative ways to create their Minion heads and buying things back in August, started basic construction in September, but due to my kids hectic sports schedule, I never got fully into the actual constructions until October. Then of course, came crunch time the week before Halloween, when my daughter wanted to wear her Bob the Minion costume to a Halloween party where they were having a costume contest. So, I made sure I completed the hers first, then the Kevin the Minion costume and last, but not least the Stuart the Minion costume. Happily and proudly, my daughter wore Bob to the party and I actually wore Kevin too! We both got RAVE REVIEWS, oohs and ahhhs and she was even a winner at the costume contest, she was so happy!

Materials used to create the Minions costumes:

-3 candy bowls, $1 ea.
(for top of Minions heads)
-3 floral wire wreaths, $4 each (attach wires to and rest on shoulders)
-Floral wires and wiring, $4 (create structure/skeleton to heads)
-Gray duct tape, $6
(use for wire reinforcement and sticking fabric inside heads)
-Black duct tape, $5
(use for goggles band around heads)
-3 Christmas snow drapes, $1 ea. (apply around heads so wires don't show though)
-3 yards of yellow polyester, $5 (cover to wrap each head in)
-Black toiuling, $1
(cover the inside Minions mouths, so you don't see kids faces)
-round lids as goggles bases
-4" styrofoam balls, $5
(cut in half for Kevin and Bob's eyeballs)
-6" styrofoam ball, $6
(cut in half for Stuart's eyeball)
-Iris', created and printed out
-cereal boxes, thin cardboard
-Aluminum foil (wrap goggles in)
-Plastic sheet (lens for goggles)
-Hot glue & glue gun
-Self-stick foam color sheets (white for teeth & red for tongues)
-Black fuzzy sticks/pipe cleaners
(for Kevin & Stuart's hair)
-3 pairs of black gloves, $1 each
-3 l/s yellow shirts, $8 each (finally found on Amazon)
-3 pairs of jean overalls
(needed to find one pair, $5 on clearance at Walmart and other 2 were mine from ages ago)

Time spent: countless hours and many sleepless nights creating each Minion head.

So, how did I actually create these 3 Minions heads costumes with those materials? First, I attached the floral wiring at different lengths for each head I made (Kevin's head is the tallest, therefore the hardest, then Stuart is in-between and Bob's was the shortest, which was the easiest). I used lots of duct tape to secure the wires to the bowls for the "skeleton" of the head, they were also connected to a floral wire wreath that would sit on my kids shoulders for stability. This was not as easy as I thought it'd be. Ha! If I were to do this again, I'd definitely look for thicker, stronger wiring or maybe something else, especially for the taller heads.

Once all 3 heads structures were constructed, I covered them with the Christmas snow drape (white puffy blanket of snow). I used this so the wires wouldn't show through as much when adding the yellow fabric. I had no idea how this fabric would work. I liked it for the bright yellow color and it did not fray when cut. Since I do NOT sew, this was a huge plus for me. I used a lot of duct tape and hot glue to get this fabric to stay on the head structures. I tried other craft glues, but they did not work. Kevin's head was the most difficult to "wrap" since his was the tallest head which meant more fabric, more tape, more glue and more patience. I trimmed and cut the yellow fabric and wrapped each head structure as tight and neatly as I could.

After the yellow fabric was wrapped around the "skeleton" structures, I then added black duct tape to each head as the goggles band. That worked great to help hold the fabric together and create the band...a two-for-1! Then I created the goggles. My daughter helped me look around the house to use/recycle some things to create Bob and Kevin's goggles. She found large round lids and covered them with gray duct tape. Then used the two 4" styrofoam balls cut in half for Kevin and Bob's eyeballs, hot glued the flat parts to the lids, added the iris' of the eyes (that I had created and printed out). Plus, I made sure Bob had his one green right eye and one brown left eye too. Attention to details is a must! Something wasn't right with the goggles though. I had to add a top layer to create the finished look. The two-eyed minions were more challenging to do, the top part of the goggles ended up being the shape of a figure 8, once I cut out the correct template out of cereal box cardboard, I covered it with aluminum foil, cut and wrapped it carefully, added a plastic "lens" to the back before adding to the goggles. Ended up adding the aluminum foil to the whole goggle (front to back) to make it look like one piece. Much better!

Next step was to draw the shape of the mouth on the fabric and cut it out. Making sure the minions mouth would be where my kids eyes, noses and mouths were so they could see and breathe well when wearing them. I used self-stick art foam to create the teeth and/or tongues as each of my kids requested their Minions mouths to look. I stuck them onto the black toile, then duct taped that into the inside of each head.

After, i added the hair, I used black fuzzy sticks to the two Minions with hair. For Kevin's hair, i used 9 pieces in a fountain-type look, cut open the fabric in the center of his head, hot glue and stick the base of the hair in and pushed down the fabric.

Bob does not have hair, but he carries his little teddy bear named Tim. My daughter wanted to create a Tim for her too. She chose one of her smaller bear's and made him a costume too. Round, button-like eyes, small brown nose and a small pink tongue that stuck out made from the self-sticking foam. Came out pretty cute.

Then we go on to Stuart's goggle (since he has one huge 6" eye) I hot glued half of the styrofoam ball to the head, cut the goggle part out and the top part out of a cereal box, then covered it with aluminum foil. I added his one iris and top lid of goggle, much easier that way! Learn as you go along, that's for sure! Ss got Stuart's hair, that was more complicated. His looks as if he parts it down the middle. So I measured 9 black fuzzy sticks and cut each to length to look like his hair, then cut holes in fabric and hot glued in place. Whew!

Creating these three Minions heads were challenging and tiring to make, but I absolutely loved it! I had so much fun making Stuart, Kevin and Bob Minions heads!!! They were a labor of love and I'm proud to show them off to all of you, just like my trio were thrilled to wear them to school for their Halloween parade and go trick-r-treating in the malls. All their friends and people in the school were so happy to see them and didn't realize who was wearing them. It was a lot of fun! When we went out to the malls for some TRTing it was even more exciting! People that we did not know we're coming up to us asking for pictures of them and with them too!!! I lost track of how many people they took pictures with. Too funny! From little kids to teens to adults were asking for pictures with them. Parents would compliment me over and over how incredible these were and when I told them I made them, "whaaaa?!?" Hahaha! Yes, yes I did and it was great to put so many smiles on people's faces. Hearing people yell "Look, Minions...Hey Bob, Stuart & Kevin!!! We love you!" OMG...it was so wonderful to hear all that. I felt like I was walking around a theme park with the actual characters! It was hilarious and believe me, my kids loved the attention too!!!