Minions Family Costume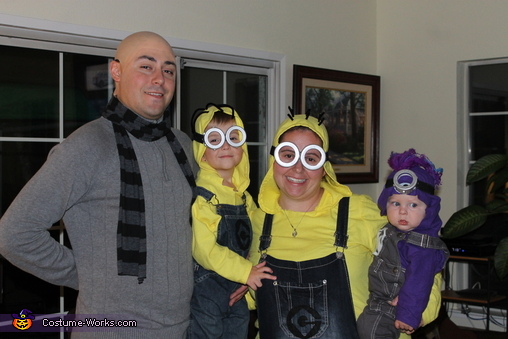 Family shot
More views:
(click to enlarge)
A word from Sherri, the 'Minions' costume creator:
This was our family costume 2 years ago. Mostly hand made or used what we had on hand.

Gru - we used a bald cap, shirt / Jacket and pants we had on hand.The scarf was cut from fabric.

Mommy minion - I made the tutu and added a Gru symbol to my overalls I also made the shirt (with the hair poking out) as I couldn't find the right color. We used pieces of PVC and nuts / elastic painted and glued together for the goggles.

Minion - I made the shirt (with hair poking out and added the gru symbol to the overalls. And made the goggles same as above.

Crazy minion - I made the shirt and dyed a pair of overalls black then added the Evil symbol. I frayed yarn after threading it through the shirt hood to make it crazy. I made a single goggle for him and glued a eye /eyelid inside so he didn't have to wear it.