Minion Baby Costume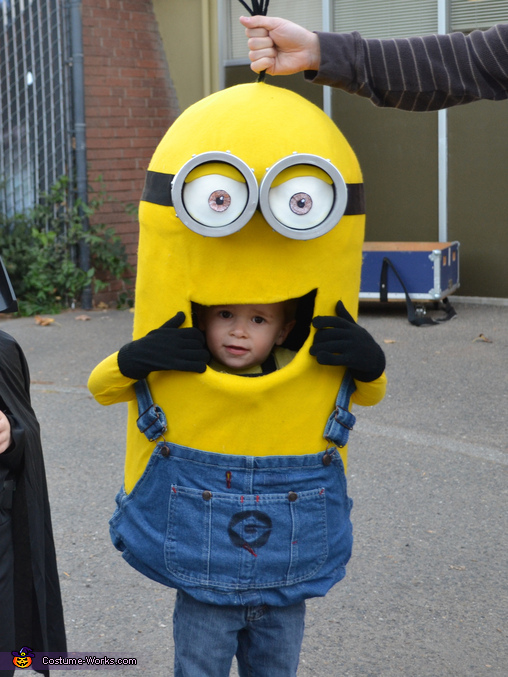 Minion Baby Costume
More views:
(click to enlarge)
A word from Nathan, the 'Minion' costume creator:
This is Charlie who is 2 years old, wearing a Minion costume. Charlie absolutely loves the Despicable Me movies, and especially loves the Minion characters. I got started with the costume about 2 months prior to Halloween.
Instructions to make costume:
I started with a large balloon and wrapped multiple layers of poster board around the balloon to make the "pill shape" of the minion, with an opening at the bottom. I then paper-mached the entire thing. After the paper-mache dried, I popped the balloon. I then cut the mouth, arm, and eye holes. I used duct tape to build out the lower lip. After this I covered the entire structure with yellow felt and made the arms out of felt as well. The hair is pipe cleaners stuck through the top.
To make the eyes/goggles, I used 4 inch PVC pipe, with 4 inch PVC pipe caps. I sawed holes in the caps to make the bevel on the front of the goggles. I then added small beads that had a flat side to make the little raised bumps around the edge of the goggles. I used a metallic spray paint to paint the goggles. I then used a light weight modeling clay to make the whites of the eyes as well as the eye lids. The iris/pupil is drawn on a piece of paper and glued in place. The goggle's strap is a thick backpack like strap material, hot-glued into place.
The overalls are real size 46 overalls, cut off at the legs, hot-glued into place and tucked under the body. I used a sharpie to draw Gru's logo. Charlie worn his own jeans to make it look like the overalls continued to his feet.
Inside the body, I fashioned a harness like structure to keep the costume in place. Charlie kept the costume on the whole time while Trick-or-Treating, but I did have hold him by the hair (pipe cleaners) a few times, to stabilize him.
The entire costume probably cost about $100 for all the parts and materials.