Mini Joker Suicide Squad Costume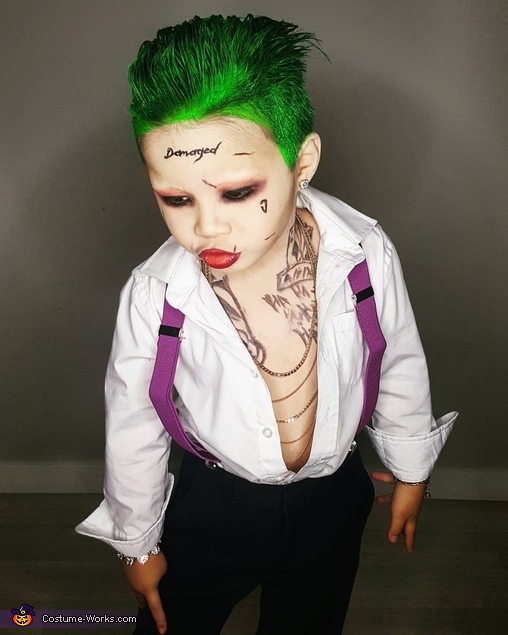 Mini Puddin (aka Joker, The Suicide Squad)
More views:
(click to enlarge)
A word from Arnold, the 'Mini Joker Suicide Squad' costume creator:
Hi my son wore our rendition of the Joker from the movie Suicide Squad. After our costume as a mini Canadian Mountie did not come in time via mail (caught up in customs), my wife and I scrambled and came up with this idea. Since the movie Suicide Squad came out, we found Joker's character very fascinating and we really thought it would be cute to have our little guy portray a dark character with a cute twist to it. The costume consisted of;

Hair: pomade + green cream make up + fluorescent hair coloring.

Face and body: white cream make up mixed with foundation + eye liners, eye shadow (black, pink and grey). FYI eyebrows covered with latex and foundation applied. ***unfortunately, being from a relatively small city, all the fake tattoo Joker kits all had been sold out, so we had to do it free hand***

Attire: purple suspenders (a must), white button up shirt, black pants, mixed jewelry (preferably with exaggerated "tacky" gold). FYI fake earrings done held by latex wax.