Minecraft Ender Dragon Costume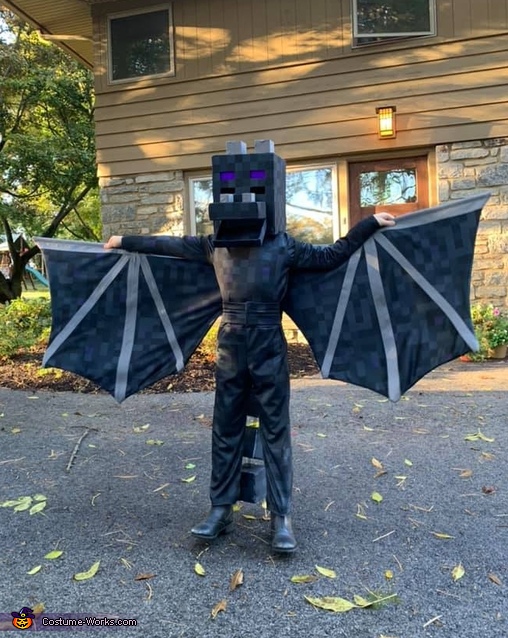 Front - wings outstretched
More views:
(click to enlarge)
A word from Andrea, the 'Minecraft Ender Dragon' costume creator:
My son (age 9) is the wearing the costume in these pictures. He loves Minecraft and wanted to be an Enderdragon for Halloween this year.

I designed the darker fabric and had it custom printed. It is a pixelated pattern of black, dark grey and purple. I made the jumpsuit out of that fabric using my own pattern pieces. I made the wings using that fabric along with a lighter grey that I bought. The wings have wooden dowels that he can grab onto sewn in so that the wings can span past his fingertips. They are attached to a flat, sturdy piece that he wears like a backpack with elastic over his shoulders. The head and tail pieces were made out of cardboard and then wrapped in fabric so that everything matches. The tail pieces are strung together using thick black wire and then attached around his waist with a belt that I made out of felt, wire and fabric. The head has a secret compartment in the top that houses purple lights for the eyes.