Minecraft Ender Dragon Costume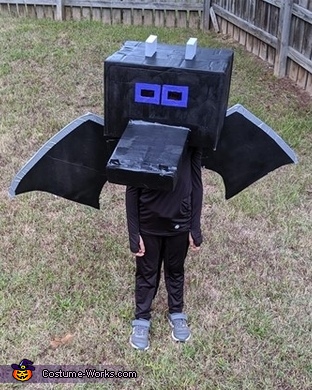 Minecraft Ender Dragon
More views:
(click to enlarge)
A word from Kelly, the 'Minecraft Ender Dragon' costume creator:
Who is Wearing the Costume: My son (6 yrs old)

Idea: My son came up with the idea to be an Ender Dragon from Minecraft

Materials: Cardboard, spraypaint, foam blocks, duct tape, painters tape, masking tape, acrylic paint, black fabric, black long underwear, box cutter, electric tape, kids dinosaur tail

How to Make It:

Head - Made from cardboard boxes, duct tape, painters tape, electrical tape, spray paint, foam blocks. Inside it is secured with an old mask glued into the top with an old beanie glued inside that to hold onto my son's head. A counterweight is made on the back of the head by using a small bungee cord to attach the back of the head to the top of the wings.

Wings - Made out of cardboard, duct tape, spray paint, and foam blocks. They are secured to his shoulders by bungee cords around the wings and his shoulders.

Body - His body is a a pair of black cuddle duds he uses as long underwear for the winter.

Tail - Tail is a dress up dinosaur tail we had that was red/yellow - we covered it with black fabric and attached the foam blocks for scales that were spray painted.