Minecraft Diamond Armor Steve Costume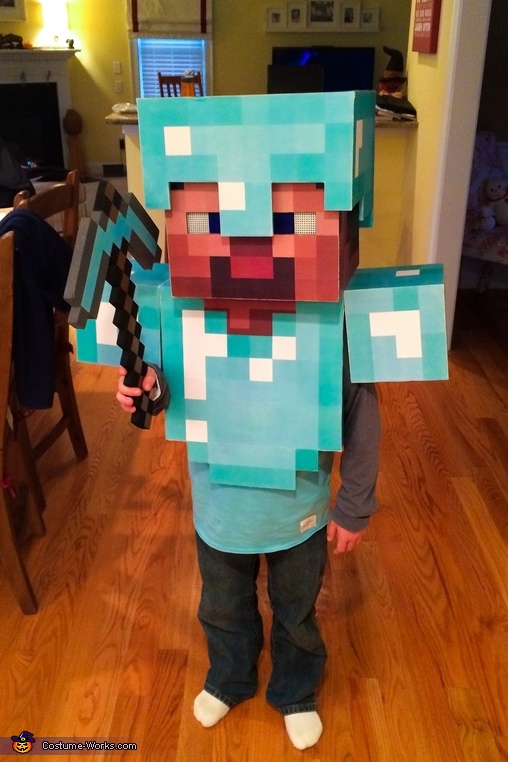 Diamond Armor
More views:
(click to enlarge)
A word from Mike, the 'Minecraft Diamond Armor Steve' costume creator:
My son is a huge fan of Minecraft and wanted to be Steve for Halloween.
This Minecraft costume was made from paper, cardboard, packing tape, wood and metal flashing.
We wanted to make a diamond helmet and diamond armor that could be worn by a 2nd grader.
The scale was as close to actual as possible.
This costume used 11x17" color copies on card stock taped together with packing tape and stuck on fabricated cardboard with spray adhesive. Custom made cardboard boxes were first cut out of 1/4" cardboard (cut 1/8 " undersize for later hot glue construction)
Next, the cardboard pieces were covered in card stock paper with spray adhesive.
Wood pieces were hot glued where strength was needed and then secured with screws.
Clear coat spray paint was used to seal finished costume to increase water resistance.
I spent way too much time on this and really enjoyed the process.
It was worn at a party, in a school parade, and trick-or-treating. Everyone loved the way it looked just like Steve! (It photographed very well too!)
My son was very happy with his one-of-a-kind Minecraft costume!