Mickey & Minnie Train Set Costumes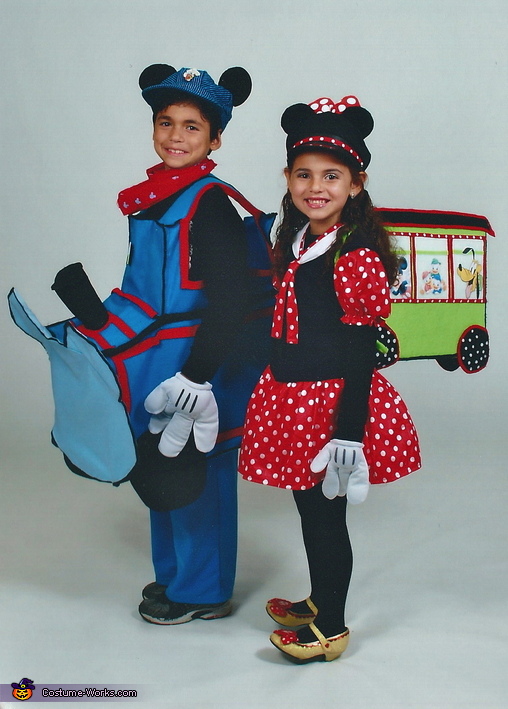 Mickey & Minnie Train Set
A word from Barbara, the 'Mickey & Minnie Train Set' costume creator:
My son Julian is a train enthusiast and during a back stage tour of the trains in Disney World, the idea of making a Mickey Mouse Train Engineer and Minnie Conductor caboose for my daughter, Sydney came about. It looks like it is store bought but it is not. I painstakingly hand stitched and constructed every part of the costume except for the shoes.
Julian is in a one piece torquoise jumper made of ployester like stretchy material. The gloves, hat and ears I made with leftover felt and stretch jersey material. The train is made from felt and hot glued together.
Sydney's costume I made the dress by making a stretchy turtle neck which I attached to a polka dot skirt which I added red and white tool underneath to make it puffy. I created a navy vest to represent the conductor uniform and using the same material of the skirt made a tie. The caboose was made out of a flat rectangular box which I covered with felt and created a backpack handles for her to carry over her shoulders.
I also created an astronaut costume for Julian and an Ariel costume for Sydney.