Mickey Mouse Costume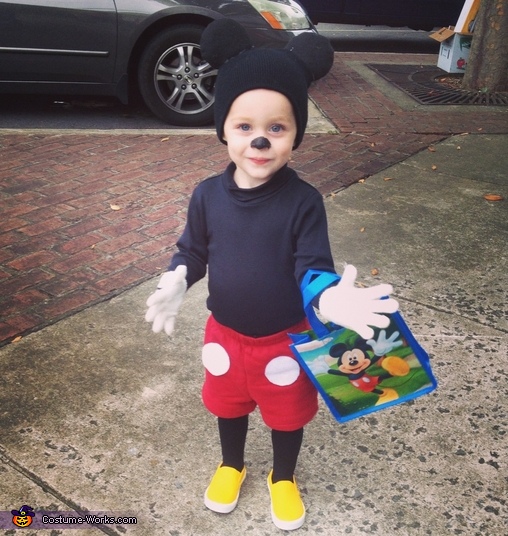 Mickey Mouse!
More views:
(click to enlarge)
A word from Crystal, the 'Mickey Mouse' costume creator:
This is Easton and he just turned 2 years old. Last year, after looking and looking, I could not find any store bought costumes I liked. So, I decided I was going to attempt to make one. I received so many compliments that I knew I was gonna have to keep this tradition up and make his costume every year. This year it was fairly easy coming up with an idea as to what he was gonna be because he LOVES Mickey Mouse. After some thought, I knew this costume was gonna be pretty easy to put together. Although, there was some trial and error on a few things, such as the hat. I first had sewn the ears (and stuff them), then made a little slit on the hat and tried to sew them into the hat. That didn't work. The ears sort of just flopped over. On the second round I decided to sew and stuff the ears, but instead of sewing them on the hat, I hot glued them. The glue acted as a base and held the ears up right. The other thing that didn't turn out as I liked was his shirt. I had originally just dyed a black onsie. I didn't like it because it showed too much skin around his neck. I got lucky and found a black turtle neck onsie for only about $8.00 (it's also something he can wear later). His shorts are made out of red sweat pants, cut off and sewn shorter with felt "buttons" sewn on also. He is wearing black tights. His shoes only cost $5.00 and were originally black cloth. I used acrylic paint and primed them with white first to help cover the black. I then painted them with yellow acrylic paint. His gloves are just white gloves and I just used a black sharpie to mimic the black lines on Mickey's gloves. This costume was pretty inexpensive. I probably put in no more than $20 to make this costume. Easton could not have been more excited when he saw himself in the mirror. "I cool", he says.