Mickey and Minnie Costume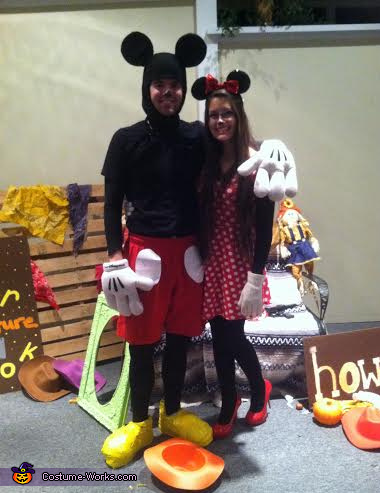 Mic n Min
More views:
(click to enlarge)
A word from Jeff, the 'Mickey and Minnie' costume creator:
So two days before Halloween, my girlfriend and I had no clue what to be! We were thinking of couples costumes and eventually came to the idea of Mickey and Minnie Mouse! We loved the idea but had absolutely nothing for either of the outfits besides Mickey Mouse gloves I had originally bought at Disney World about 10 years ago.
So within two days we crafted our outfits. Her entire outfit cost 10 dollars after she had borrowed the ears and my outfit roughly 8.50 (Dollar tree rocks!) The headgear that Mickey is pictured in was a foam circle inside a sock, attached to a headband; built inside the winter mask. The white holes on his (my) pants are plain white computer paper tapes on. Both the sleeves and the legs are in fact women's leggings.
The noses were painted on with black face paint we had found dumpster diving the previous year! And the shoes aka my favorite part. So basically all I did for the shoes was took an old pair of tennis shoes, grabbed a package balloon and with some yellow tissue paper and yellow duct tape created the buldging yellow shoes that Mickey is known for.
As for Minnie, her costume was a dress she had already owned, with leggings underneath for sleeves and legs! Her nose, like mine, was created using paint from a brand new never opened before dumpster diving find we found the previous year. Her ears however were her friends whom she had borrowed! And the shoes, well my girlfriend has a ton of shoes, so it was just a matter of which shade of red she wanted! We had a blast that night and even won a costume contest! Really enjoyed this project and am completely willing to help if anyone is interested!