Mickey and Minnie Mouse Baby & Parent Costume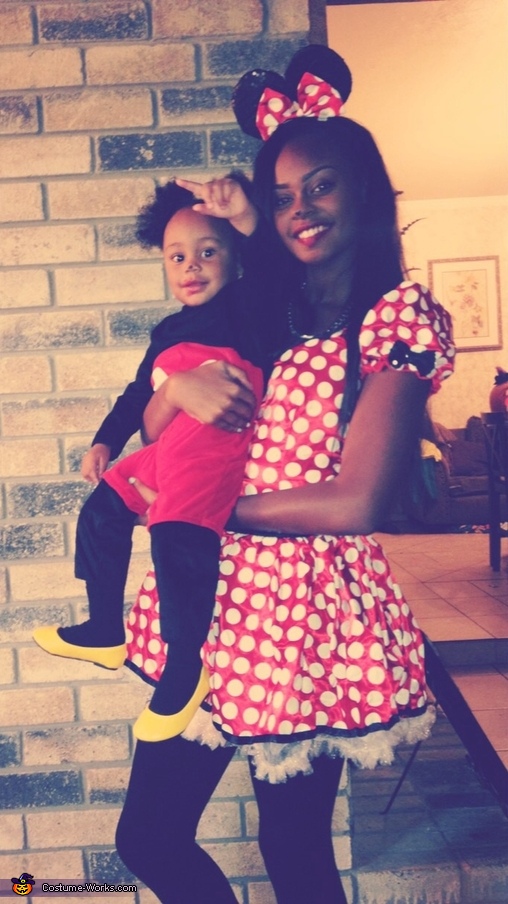 The Mickey to My Minnie.
More views:
(click to enlarge)
A word from Kriss, the 'Mickey and Minnie Mouse' costume creator:
My 1 year old son,Carsyn, is wearing his Mickey Mouse costume , because all through the year I would put his hair in two side puff balls and a cousin of mine would call him Mickey. So for Halloween I knew for sure he was going to be Mickey this year, and because we didn't dress up last year because of him being I newborn I decided to join him by being his best girl, Minnie! I basically just combed his hair as usual , put an oval shape of eyeliner on his nose, a pair of black sock, his costume, which was purchased at Walmart, and a pair of yellow girl flats (in which I was a little ashamed about) from the local beauty supply. For my Minnie costume I bought the set from Party City which included the Dress, ears, and gloves. In addition. I wore my hair bone straight, black tights, black socks, a heart shape on the tip of my nose with additional make up as well, and my complimenting yellow women flats from the local beauty supply. Throughout our whole trick-or-treat'n experience everyone would stop us for pictures and tell us how cute we were. After posting pictures on Facebook, we recieved several likes, people reposting and sharing , positive comments, and one of my old High School friends suggested that I enter us into a costume contest so here we are, and I hope you guys enjoy it as much as we enjoyed dressing up!