Mermaid Costume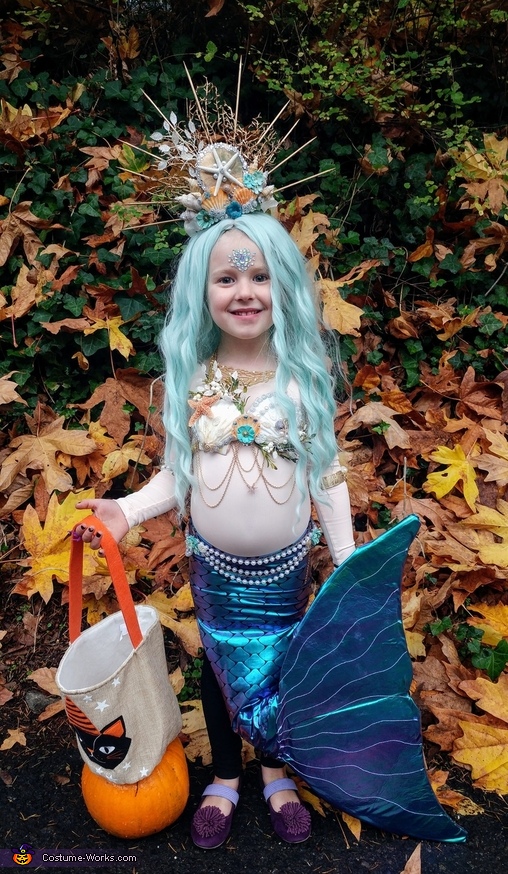 Mermaid Costume
More views:
(click to enlarge)
A word from Ashley, the 'Mermaid' costume creator:
What little girl doesn't dream of being a mermaid? I know I did. When my daughter decided she wanted to be a mermaid this year for Halloween back in August I got so excited. I started researching ideas right away.

I wasn't interested in making a Disney princess. I wanted to make a fantasy/cosplay type of mermaid costume. I spent a lot of time online looking at mermaid art and editorial magazines. Faerie magazine put out a mermaid edition this year and I got a lot of inspiration from that. I wanted the piece to look ethereal and breathy with a pastel color pallet. I am so pleased with how it came out.

The crown is one of her old tiaras with a lot of hot glue. Materials used are seashells, a sand dollar, kabob skewers, gold spray paint, coral from the pet store, rhinestones, pearls, sea glass we collected, and more. The bra uses much of the same and the fluke is sewn together with a cardboard insert for the tail to keep it's shape. I made a full tail for her pictures but had to modify it for trick-or-treating so she could walk. So I slit a hole in the back of the legs and attached an armband to the fluke so it could hang to the side. All in all it took about 8 hours to make.

I also had a really hard time finding an appropriate wig. Every child's wig for a mermaid or fantasy character is so bright and vibrant. After hours of looking, I took my changes on an adult wig. I had to rig it in a few places so that it would stay on, but it did the trick.

We had so much fun this Halloween trick-or-treating. Our little mermaid was a head turner in the neighborhood and downtown. She brought a lot of joy and posed for many photos.