Medusa Costume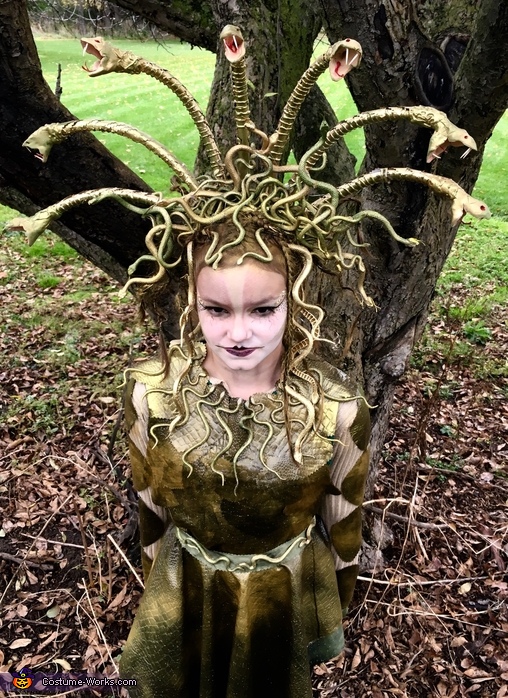 Medusa
More views:
(click to enlarge)
A word from Brittany, the 'Medusa' costume creator:
This is my 11 year old daughter, Olivia, wearing a homemade Medusa costume. The idea came about this past summer while on vacation. Olivia and friend were setting up a prank to scare my husband and I by putting a dead snake in the house 😑 DISCLAIMER: snake was found dead, no animals were harmed! Anyway, Olivia's friend threw the snake at her and the snake ended attached by its teeth in her leg! Google to the rescue..apparently the nerves are still active after death and can still bite you. Good thing It was a small non-poisonous snake. It was the joke of the summer and by the end of the summer we all were calling her MEDUSA!
HOW TO:
Construction of the head piece was something I had a lot of difficulty with. How the heck is this going to balance on her head?! I research drag queen/ showgirl headpieces, which definitely helped with the engineering aspects. To break it down - I used two,dollar store headbands, craftwire, BBQ skewers,and tons of hot glue. Spray painted rubber snakes and glued and wired to headband #1 in front.
SNAKES: The snakes were made from clear rubber plumbing hose from a home store for about $8. I sculpted the heads with some model magic clay and attached with hot-glue. The ribbing details are made with hot-glue as well and all spray painted. The teeth are made from toothpicks.
I had to make the snake removable so she could fit in the car. That's where the BBQ skewers came in. The second headband is where I attached the skewers vertically with glue, and the hollow snake (tubing) could slide on and off.

OUTFIT: I found some 50% off fabric at the fabric store that looked like snake skin. I'm not much of a seamstress, sooo hot-glue it is!! I cut tons of scale shaped pieces from the fabric for hot-glued to a shirt. The skirt was a circle patterned skirt with some hooks in the back.
I had so much fun with this costume! It was the most creative one I have ever-made. I enjoyed the challenge of making something of my own interpretation...Medusa.
Hope you like it!