Medieval Dragon Warrior Costume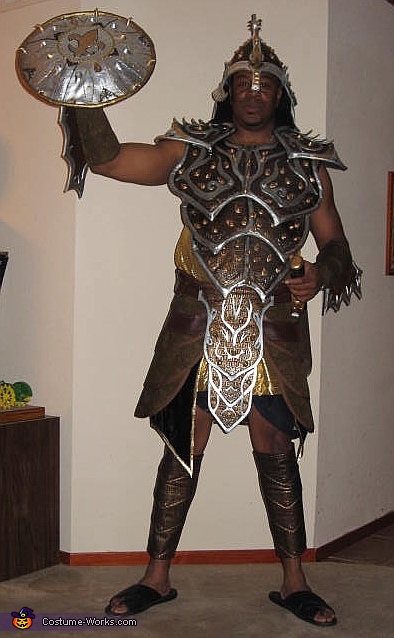 Medieval Dragon Warrior - Front View
More views:
(click to enlarge)
A word from Julie, the 'Medieval Dragon Warrior' costume creator:
My friend Enrico is modeling this costume. He saw a picture on the Internet and asked me if I could make him a costume that looked like the picture and that was inspiration for my creation.
The materials that I used to construct this garment included; Faux Alligator Skin fabric (it was a gold embossed vinyl fabric), faux leather (another vinyl fabric), Faux Chain Mail fabric, black velveteen fabric, a cotton lizzard skin print fabric, satin fabric, craft foam, several thermoplastic materials such as Wonderflex and Friendly Pastic, metallic fabric paints and regular metallic spray paints, rivets, studs, buttons, elastic, several different glue products, and lots of creativity.
I started this project in August by taking all of Enrico's measurments and then I began to create the pattern pieces. I made everything you see in the photos, except his shoes/sandals. The costume consists of the following items; Medieval Armor - Breast, Rib, Abdomen, and Loin Plates, Should Cap Plates and an Upper Back Plate. Under garments are: Faux Chain Mail Tunic, Black Velvet Skirt Trimed in Gold Lame. Guards included: Hip and Thigh Guards, Shin Guards, and Forearm Guards. And finally the Conical Helmet with a Norman Nose Guard, a fully decorated Shield and Sword.