DIY Matryoshka Costume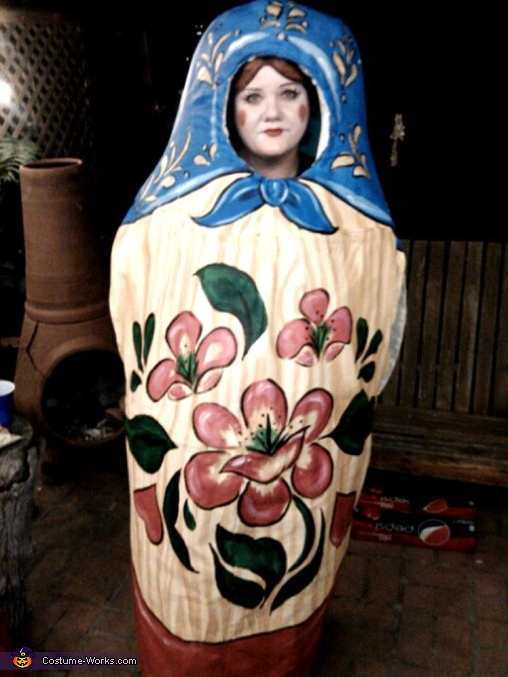 Finished project with hair piece and makeup
More views:
(click to enlarge)
A word from Lori, the 'Matryoshka' costume creator:
I've always quite liked Matroyshka Dolls (aka Russian Nesting Dolls) and thought it would be a fun challenge to create one!
I began by building a chicken wire shape around my dress form, making sure to add a large coffee can to make a "head" on the dress form to get the right height.
I used 5 yards of natural color canvas, cut into 4 sections, and pinned it around the chicken wire form. I removed the canvas, trued up the lines, and cut it out leaving a 1/2" seam allowance. I then cut 1" wide sheet foam along the same lines from the crown of the head to the shoulder.
Next I stitched the four seams together, leaving the side seams open for 18" long arm slits and allotted for a 1 1/2" hem. I inserted the foam pieces into the head section, and secured it to the canvas with thick thread.
I then took 3/4" white gros grain ribbon and stitched it around the shoulders, the waist, (above and below the arm slits) and turned up the hem 1" to create boning channels. Next I used metal sheet binding tape and threaded it through the channels, connecting the ends together with hot glue.
To prepare for painting, I put the sewed canvas base back onto the dress form and primered it using white house paint.
Using examples from real Matryosha Dolls, I painted the primered base with acrylic paint, and used a bit of gold spray paint for the floral details on the blue scarf.
I created a separate faux hair piece to mimic the bangs that some Matroyshkas have. Last but not least, rosy cheeks, big black lashes, and cute red bow lips!