Mary Poppins and Bert Couples Costume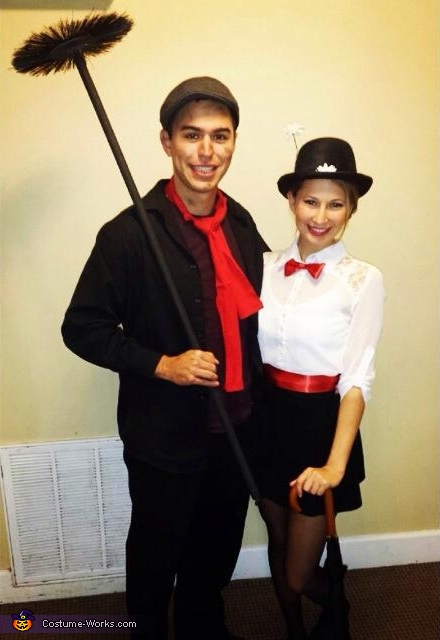 Mary Poppins and Bert
More views:
(click to enlarge)
A word from Emily, the 'Mary Poppins and Bert' costume creator:
I always loved the movie Mary Poppins, and it was one of my favorites as a child. In this costume is myself and my boyfriend Phil. I had recently watched the movie with him because he had never seen it and we got the idea after watching it.

How-to Mary
Hat- $2 hat from local dollar store, $3 fake flowers from hobby lobby.
Outfit, pre-owned white shirt and black skirt. Bought ribbon for $3 at hobby lobby for the belt and bow tie.
Umbrella-bought for $6 at amazing savings.

How-to Bert
Hat-$15 at a shoe store
Outfit-already owed maroon t shirt, black unbuttoned dress shirt, and black pants.
scarf- made from a red bandanna which was cut into strips and tied together. $1
Chimney Sweep- I found a broom at the dollar store. The broom was detachable so I removed the pole. I painted the pole to make it black. I then cut off all the bristles from the end of the broom. I cut a piece of cardboard into a circle and hot glued the bristles onto the piece of card board. I then painted all the hot glue marks with black paint.