Mary had a Little Lamb named Chelsea Costume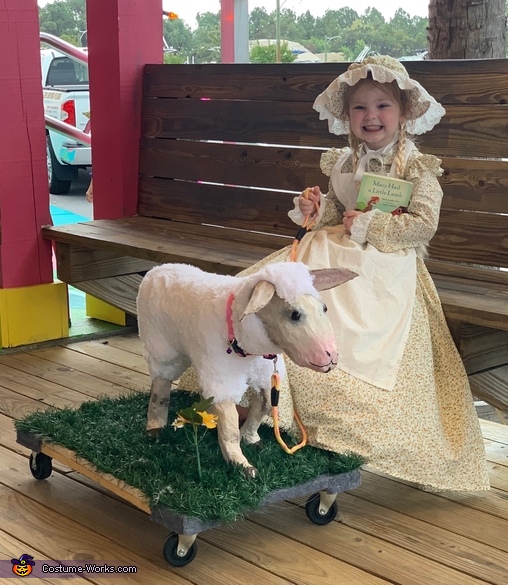 Mary had a Little Lamb named Chelsea Costume
More views:
(click to enlarge)
A word from Renae, the 'Mary had a Little Lamb named Chelsea' costume creator:
My granddaughter sings a lot of nursery rhymes lately, but "Mary had a Little Lamb" is her favorite.  I asked her what she wanted to be for Halloween in August and she said: "Mary had a Little Lamb." I struggled at first wondering how to design this, but it turned out to be a fun project to do with her and pretty easy. She even named her lamb Chelsea.
I found a dress from thrift shopping that I added an apron and hoop skirt from a wedding she was in previously. I bought "Frozen" hair headband from Dollar Tree and made two long braids and added two of her hairbows. I added pink lipstick to her cheeks to make them rosy. She had a "Mary had a Little Lamb" book passed down from me. I made the lamb by paper mache and painted with craft paint. I used glass rocks for eyes. I had sherpa material to use for the wool on the lamb. I used my furniture dolly to hot glue the lamb on and situated the lamb in order to have an area for her to sit and ride so that I would not have to carry her.  I stapled three strands of Christmas garland that I had for the grass as well as one flower from my craft items. I had a pink dog collar that I added a bell to along with a leash. I connected the leash to the collar with fishing line tied to dolly and leash so that the fishing line pulled the dolly instead of pulling by the lamb's neck. To pull her via the dolly, I could unhook the leash from the collar and thread it through the hole behind the lamb's front foot to pull "Mary" on the dolly when she was tired of walking. The book came in handy to sit down and read to her when waiting on our next excursion.