Marty McFly Costume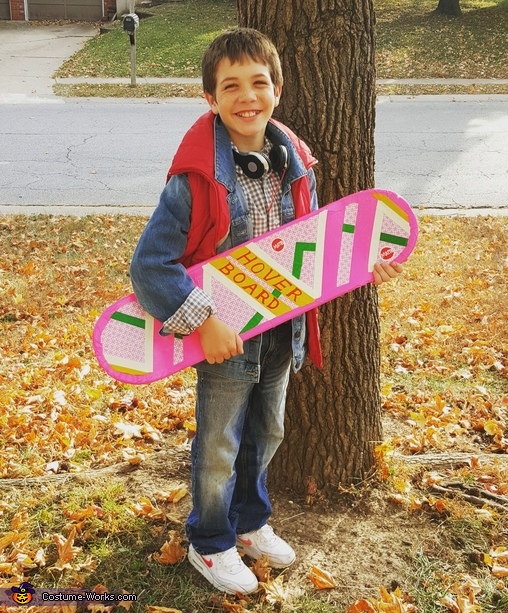 Marty Mcfly with hover board
More views:
(click to enlarge)
A word from Emily, the 'Marty McFly' costume creator:
This is my son Austin, he is 11 and loves the Back to the Future movies. He was watching it in September and realized this is the year they came to in the future. He decided he wanted to be Marty Mcfly and his little brother Camden, who is 7 can be Doc. This is him on Oct 21, 2015. The day from the movie. Most of his costume is from the thrift store! I found the button down plaid shirt in the men's section of the thrift store. The denim shirt and famous red vest came from the same thrift store, but the women's department! Everything is a little too big but what also makes it cute. The shoes are also from a thrift store. They were all white Nikes and I colored in the swoosh with a red sharpie. The hover board is his skate board covered in duct tape.(actually called creative tape, its the off brand cheaper version of duct tape.) We were going to spray paint his skate board but I didn't want to permanently change it. Now he loves it so much I don't think he'll ever take the duct tape off. Him and I made it one day after school in less than an hour. The jeans and watch were his already and the sunglasses are mine, Mom's.
Cost
Vest $3.98
Denim shirt $1.98
Plaid shirt $2.98
Duct tape $8
White Nike's 2.98
Everything else from around the house
Total cost $19.92!