Martians Couple Costume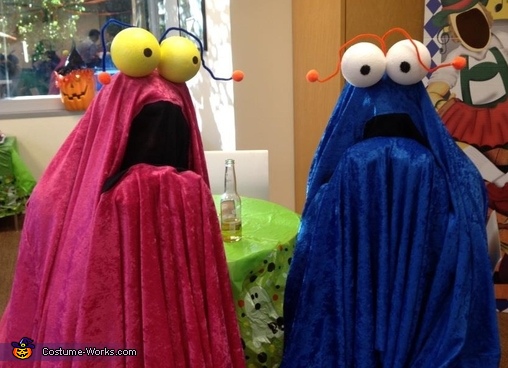 Yip Yip Yip Yip! uh-uh, uh-uh.. Nope Nope Nope Nope!
A word from Elizabeth, the 'Martians' costume creator:
I decided to go with the martians from sesame street after I watched a youtube video that claimed sesame street discovered "dubsteb" 30 years ago! The martians were the plot of the video and it had brought back memories of how much I used to love impersonating them as a kid. Me and a friend are wearing the costumes. You usually see two interacting, so I recruited a friend to don the second costume, but I made them both. They only costed about $15 each since Jo-Ann's was having a fabric sale! I used about 2.5 yards of crushed panne velvet ($2.50/yard!) for the body. I used a mesh fabric for the mouths that i folded about 4 times to make it nice and dark. I used styrofoam balls for the eyes, and bought a pack of fuzzy bendable rods and balls. I used a glue gun to connect everything together. It took about 30 minutes to make each one.