Marry Poppins and Bert Costume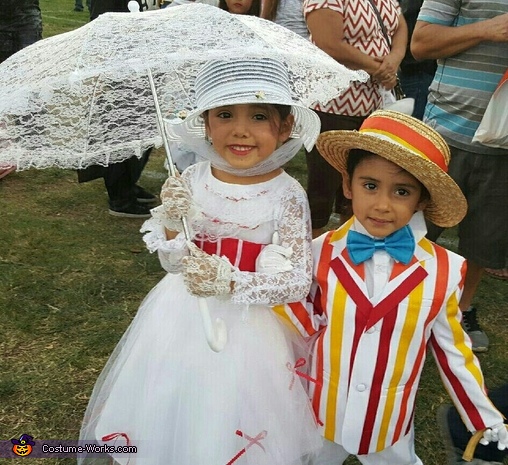 marry poppins
More views:
(click to enlarge)
A word from Maria, the 'Marry Poppins and Bert' costume creator:
My daughter Alessandra is Marry Poppins and my daughter Victoria is Bert. The idea to dress them up came after watching the movie. The way i created Marry Poppins is i bought a sleeveless white dress, a white tea party hat, a lace parasol, white heals, i bought lace gloves and added the sleeves to the dress. then i used the remaining of gloves i used to create sleeves for the ruffle on the chest. i added white flowers to the had and painted them lightly with red marker.then i made a hole on the side of the hat to insert the white tulle for the ribbon across her chin.

To create Bert i bought a white boy suit. I bought orange, yellow and red ribbon to create the stripes. i used fabric glue to place ribbon on suite. I then added ribbon accent to hat by also gluing it. I finished costume off with a blue bow tie and a cane.

Making these costumes for my kids was a wonderful experience. I was impressed with the work that I put into them. I felt they looked great.