Mario Bros Piranha Plant Costume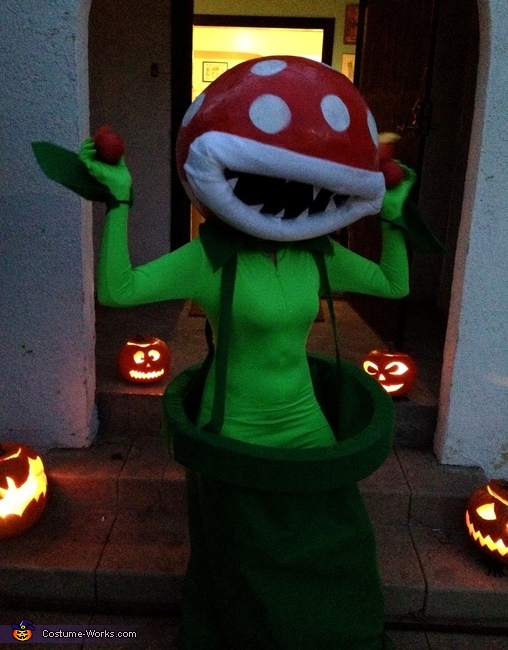 Mario Bros Piranha Plant
More views:
(click to enlarge)
A word from Taya, the 'Mario Bros Piranha Plant' costume creator:
Hi!

Halloween is the time when my skin develops a lovely coating of 3M Super 77 and plaster of paris. :) I love making huge, elaborate, silly and extremely uncomfortable costumes in the name of Halloween.

I chose to be the fire shooting piranha plant from the OG Mario Bros because it is a perfect blend of 80's nostalgia and easily recognizable.

The head is 5 layers of paper mache molded over an exercise ball and then covered with a layer of plaster of paris. The plaster was sanded down (this will truly take you forever and is soul sucking) and then painted with red spray paint, and then white using a circle stencil. The lips are copper tube insulation bent to fit the pre-cut mouth and covered in felt and spray glued down. The teeth are thick cardboard and the mouth opening is a sacrificed pair of pantyhose. The neck opening is covered with more insulation foam covered in green felt and some felt leaves to make a smoother transition.

The cuffs are green felt shaped into leaves and joined together with elastic. The pipe is a high density foam chair pad cut into three pieces and glued together to form a band and covered in green felt. The tube body is green felt sewn into a, well, tube, and glued to the upper band. It is held up with green felt suspenders. I put two pockets inside the pipe to hold my fireballs, which were cheap plastic balls covered in firey tissue paper. :)

So much fun! Happy Halloween!